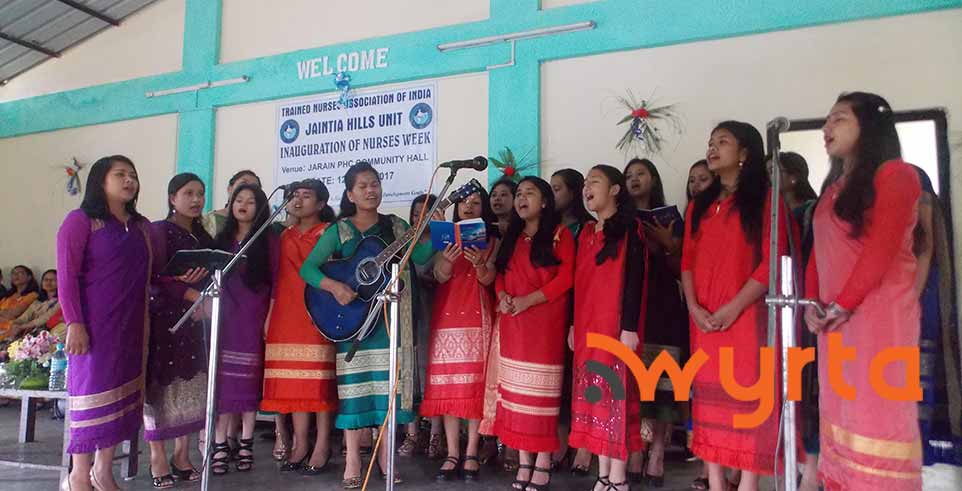 Da kynmoo warom ya ka sngi ki Nurse ynne ka sngi
by Wyrta Staff
Amlarem: Ka International Nurses Day da kynmoo warom ya ka da ka Jarain PHC ha Community Hall, Amlarem Sub-Division wei da pynman ya kani ka yalang da ka Trained Nurses Association of India, Jaiñtia Hills Unit.
U Parliamentary Secretary ka sorkar Meghalaya, Sports & Youth Affairs Department, u Stephanson Mukhim da wan u kam u kongsan ha kani ka sngi.
Advertisement
---
Hei klam yong oo da ong u wa i chakri ki nurse ya ki paidbah ymtoh iwa suk neibhah ki kreh ki neibynta i chait i khiah wei kamjooh ka yap ka im leh chong ko hei kreh chitom ki nurse. Kamtæ da e khublei u ya waroh ki nurse wa i sñiawngooh yei kreh yong ki wei yow chlur ki u yaleh ya iwon iwon wa chem chitom ki wei wow kynmoo ki u kreh ki dei maya ya kiwa chem chitmom wei ym hoi u dam u em ya i phooh i kmen ha i dur yong ki.
Kani ka International Nurses Day da kynmoo lang ya ka waroh kawi ka pyrthai ha ka 12 Naisan man u snem kam ka tarik wa kha ya ka Florence Nightingale ka nurse wa pynkylla thymme yei rukom kreh ki nurse.
Ka phang wa jied da ka International Council of Nurses ha uni u snme toh 'Nurses: A voice to lead – Achieving the sustainable Development Goals'. Hei yatoh wa ini da klam ka Aiti Mega Kharkongor, Sister Tutor Norman Tunnel Hospital Jowai, kawa ban joor wa i kaam ki nurse kiwa kreh ha ka tnat i chait i khiah toh yow yarap yow pynku yei im ki bru man ka sngi wei man ki leh kiwa embynta lang yow pynpoi ya ka thong wa da booh da ka United Nations yow pynwiar noh yei dooh i duk u yada ya ka pyrthai yow man ka imlang sahlang kawa chait wa khiah.
Kani ka sngi man ko leh kam wow wai ya ka Nurses Week heiwa daw leh warom ya ka waroh chitayaw.