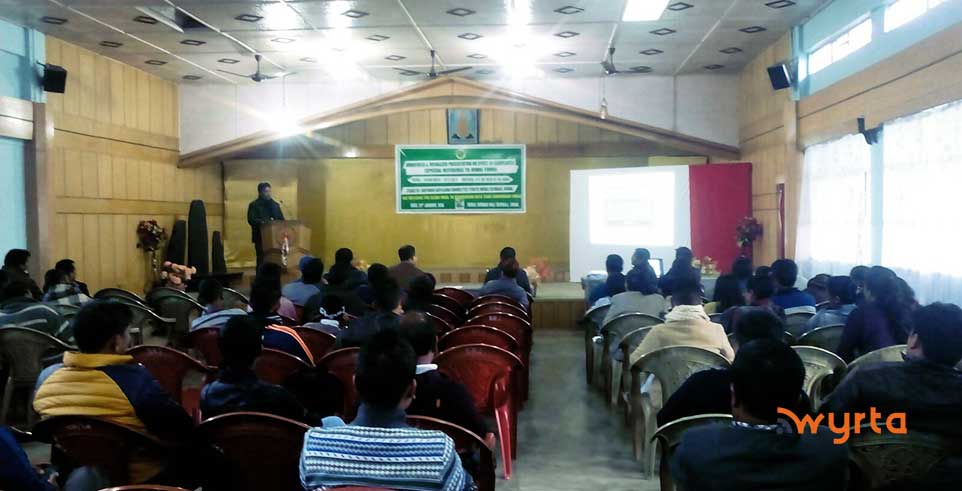 Da pynman ya ka Program hajrong i khooid i jngiar
by Wyrta Staff
Jowai : Ka Seiñ Raij Jowai lyngba ka Khynroo Khyllood Committee (KKC) yong ka da pynman ko ya ka prokram hajrong i khooid i jngiar ya kawa da tip kam ka "Awareness  & Visualise Presentation on Effect of Cleanliness with Special Reference to Jowai Town" ynnin ka 24 tarik ha Yung Dorbar ka Seiñ Raij Jowai.
Ka matphang yong kani ka programme toh "Its the need of the Hour, Lets do it together" namo da toh i por wei emkaam u leh i ki chirup.
Ya kani ka program da pynlai da u Chairman ka KKC u W. Kharbuki, da yoh yei klam na u President ka Seiñ Raij u ma OR Challam.
Ha kani ka program da yoh yei klam na ki bru wa chemphang kam u B.J Kharshandy, Executive Officer Jowai Municipal Board wa na u D. Toi, SDO. PHE Dept. Amlarem.
Da yoh leh yei pynyoo dur næ ka slide presentation na ki dkhot ka KKC wei da yoh ya ki kyntien e khublei na u Secretary ka KKC u ma J. Nanghuloo.