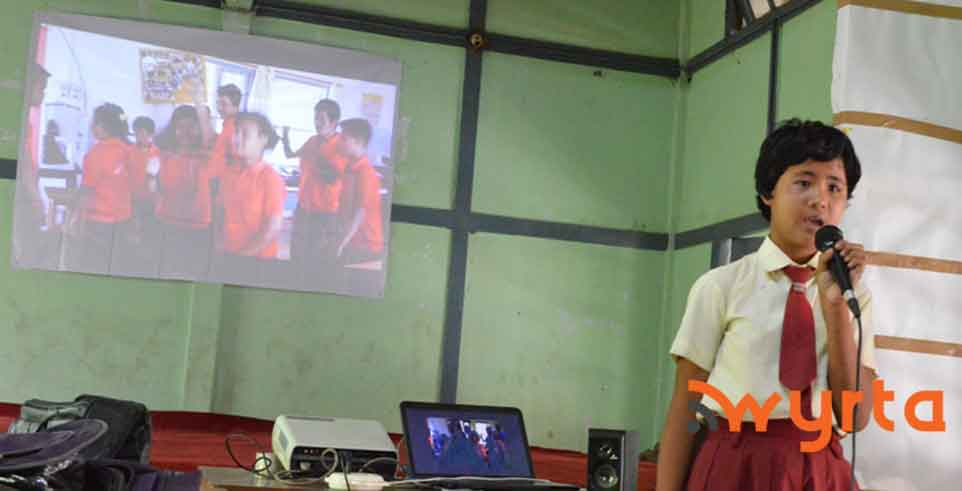 Da sdang ka lympung pynyoo phlim wa chi tayaw ya ki khynnah ka ri-loom Garo
by Wyrta Staff
Tura: Ka lympung pynyoo film wa kyrpang neibynta ki khynnah wa tip kam ka Children's Film Bonanza da sdang ko ynne ka sngi ha Government Girls Higher Secondary School, West Garo Hills Tura. Ya kani ka lympung da pynman da ka Children's Film Society, India (CFSI) hei yakrehlang wa ka Cinedarbaar wa ka Meghalaya Board of School Education, West Garo Hills, Tura. U Aayush Raj, Project Planner na Cinedarbaar da em u ha kani ka lympung ka wow neh hadooh ka 4 Naikhynde.
Ye u ong heini wa ka CFSI toh ka tnat hapoh ka Ministry of Information and Broadcasting, Government of India kawa kreh wow kyntu kynrong ya ki kaam pynwyarngia neibynta ki khynnah yow pynyaar yei rukom pyrkhat yong ki kamjooh leh wow pynchlur ya ki ha ki kaam wa bha.
Ka thong kani ka lympung toh wow pynpsiah yei sñiaw wa i rukom pyrkhat ki khynnah ka thaiñ mihsngi khnang wow ye ki u bichaar ya ki phlim wa kiwi kiwi.
Da pynyoo ya ka phlim 'Kima's Lode- Beyond the Class' kawa man ka parom yong u khynnah wa 12 snem na ka chnong "Chhimtui", heijooh i por da pynyoo leh ya ka phlim wa da chna kyrpang da ka National Commission for Protection of Child Rights khnang wow pynsñiawthooh ya ki khynnah ya ki hok yong ki wei wow pynman ya ki kiwa husiar.
Heijooh i por da pynman ya ka Quiz Competition hajrong ki phlim wa da pynyoo wei kamjooh leh da e ya ki khusnaam cha ki khynnah kiwa da ye u e yei jubab wa tne.
Daw pynyoo ya ki phlim mynstep ha Government Boys Higher Secondary School, Tura wei daw pteiñ deiwa lai cha ki skur ka South West Garo Hills, Ampati wa East Garo Hills, Williamnagar.