Dawa pyndam noh ki Doctor ka NEIGRIHMS ya u Director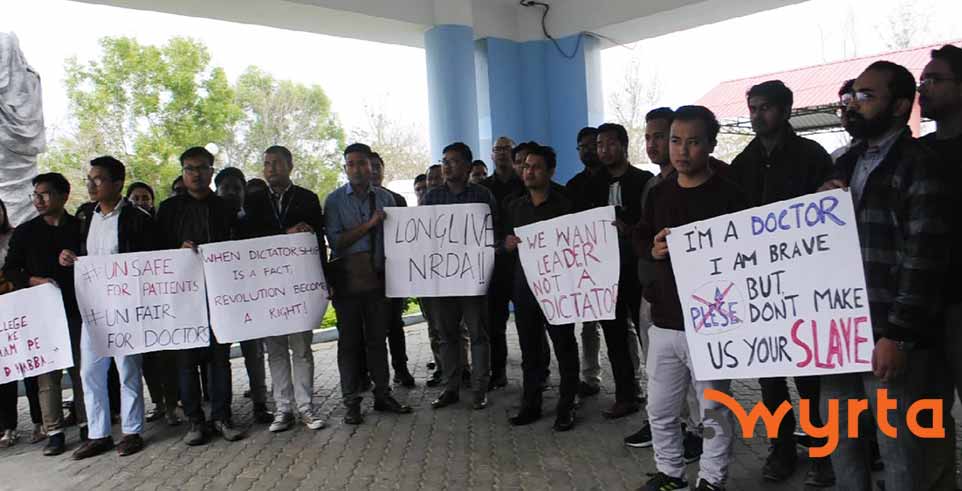 Advertisement
---
Shillong: Ki Doctor wa kreh ha North East Indira Gandhi Regional Institute of Health and Medical Sciences (NEIGRHIMS) hapoh ka lama ka NEIGRIHMS Resident Doctors' Association (NRDA) ynne ka sngi da pynman ki yei sangeh kreh wa khlem booh por neidaw i wym mano ki bor pynlai hajrong i eh ki Doctor namo ki Resident Doctors.
Hawa yaklam wa kiwa pathai khubor ynne ka sngi, u President ka NRDA, u Dr. Synrang Batngen Warjri da kam u wa hadooh ynne ym em wot kawi wot leh ka chnat wa kyrpang (Super Specialty Department) kawa krehkaam ha kani ka thaw sumaar toh neidaw i wym biang i kyrchaan na ki bor pynlai.
Advertisement
---
Advertisement
---
Da kdaw u leh wa nadooh wa chimkti u Dr. D.M Thappa kam u Director, ym em de tipmit ya ki ' Post Graduate' neidaw wym kitkhia ki bor pynlai. Da pynrap u wa hadien da tipmit won lyngba i tuklar ka yung bichaar.
Kiwa sikai da iehnoh ki ya ki kaam na ki chnat waphær waphær kam na ka 'Medical Oncology', 'Anaethesia', 'Gynaecology and Obstetrics', 'Paediatrics', 'Radiology', 'Orthopaedics', da ong u Dr. Warjri.
Ka NRDA da pynbaad ko wa hajrong wa duna kiwa sikai, em leh ki kattu katni ngut kiwa chakri ha ki chnat kam ka 'Obstetrics and Gynaecology', ' Cardiology' kiwa chah pyndam yabor ha u Director.
U Dr. Warjri da pyntip u wa neidaw wa duna kiwa sikai wa ki 'Senior Resident' ha ka chnat 'Paediatrics', da haap wow khang noh ya ka 'NICU Unit', ym du kattæ da haap phah ya kiwa chah thooh dawai cha kiwi ki thaw sumaar ki bru samen. 
Ha ka chnat 'Emergency', da em du uwi u 'Junior Resident' uwa pait ya ka chnat waroh kawi (hadien chiteiñ sngi) ryngkat i synraan kiwa dang wan chah hikai.
Chooh chooh da pynbaad wa ki khynnah puræ jooh chah pyndik ki ha u Director deiwa tuklar ya i rukom krehkaam ka Exam, i ekti ya ki 'Thesis' wa i su tulop. 
Ini i yakhih ki Doctor u pteiñ i kat hadooh wa yoh kj yei dawa tangwa ym sangeh ki wow sumaar ya kiwa chitom.