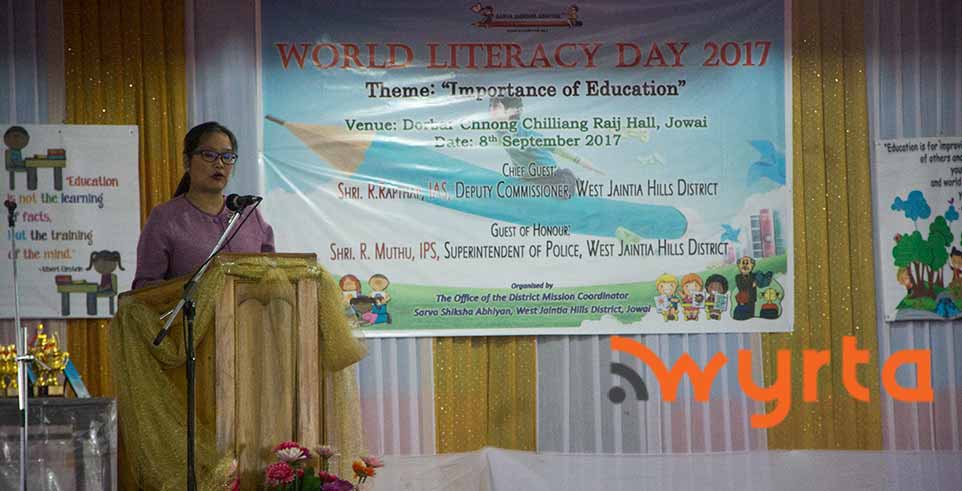 Duna kiwa tip u thoh u puræ hapoh ri-loom Jaiñtia hawa wyrchaw ya ka jylla waroh kawi
by Wyrta Staff
Jowai: Ka yung krehkaam ka District Mission Coordinator SSA – SEMAM, West Jaiñtia Hills ynne ka sngi da pynemwarom ko ya ka World Literacy Day hajrong ka phang, 'Education is Important' ha yungwalieh ka Chiliang Raj, Jowai.
Ha kani ka sngi u DC ka West Jaiñtia u R. Rapthap, da man u kam u kongsan hei emlang u SP ka District u R. Muthu, kam u symbood kongsan hei emlang ka D. Khongiong, Joint Director School of Education & Literacy, West Jaiñtia Hills District, Jowai, M. Pde, District School Education Officer, West Jaintia Hills Dr. (Mrs) L.M Darnei District Mission Coordinator, SSA SEMAN, West Jaintia Hills wa kiwi kiwi.
Ka Dr. L.M Darnei, District Mission Coordinator, SSA-SEMAM, West Jaiñtia Hills District hei klam pdiang burom ko da pyntip ko wa ki ar district ka ri-loom Jaiñtia toh kiwa duna dooh ha i tip u puræ puthi neibhah poi ki du 63.26% lada wyrchaw ya ka 74.43 % yong ka jylla.
Katkam ka bui (report), hapoh ka District da dep ye u pynpsiah ya 1540 ngut ki khynnah ki wym jooh lai skur kamjooh kiwa da dam skur (Out of School Children) yow sdang biang u puræ ha ki thaw wa da booh kyrpang ya ki ha ki Block. Hapoh Thadlaskein Block em 527, Laskein Block 729 katwa ha Amlarem 284 ngut. Kiwa thymme won ki khynnah Out of School Children kiwa da sdang skur da em hadooh 1440 ngut heiwa ha Thadlaskein em ki 458 ngut, ha Laskein 602 ngut katwa ha Amlarem 381 ngut, ha ki Special Training Centre hapoh Thadlaskein em ki 29 ngut, Laskein  27 ngut katwa ha Amlarem 15 ngut.
Kini ki Out of School Children toh boon ki por kiwa da rap heh snem kamtæ da e ya ki da ka sikai wa kyrpang yow ye ki u lai psiah ha ki Class wa yatoh wa i rta yong ki heiwa na Thadlaskeiñ Block 98 ngut katwa na Laskein Block 120 ngut da yei ki u psiah cha ki skur kamwa lai kiwi ki khynnah.
Ka e sikai ya kini ki Out of School Children em i por neh ko 3 bnai hadooh 2 snem chong hei emkaam ki khynnah
Hei klam kam u kongsan, u Rapthap da pynsñiaw u yei mynsien wa sñiawsih wa ki district man ki kiwa duna dooh hei puræ puthi deiwa kyntu ya waroh wow sñiawthooh ki wa emkaam u e yei puræ puthi cha waroh ki khynnah deiwa sdang yeini pyn na yung hi.
"I stat i tip toh iwa emkaam ha kiwa boon ki liang man ka sngi iwa pynskem yei ngait wei pynchlur ya i ha ki kaam wa man ka sngi" da ong u R.Muthu. Da ong u leh wa waroh emkaam i wow poi ha ka thong tangwa du i klam donhi leh ymhoi, emkaam wow kreh wow mynot wei ha kani ka juk emkaam u yaleh wow yoh ya ki certificate yow pynsakhiat yeiwa dadep i.
Ha kani ka sngi da em leh ka Extempore Speech wa ka yakop Skit neibynta ki OoSC heiwa da saam leh ya ki khusnaan cha kiwa jop, da pynkupburom leh ya ki volunteer, kiwa sikai wa ki BMC.
Ki khynnah leh da rah placard ki wei ya ka Best Slogan da yoh ka Kurimai Memorial Upper Primary SSA wa thoh "I found myself through Education", wa ar cha ka Loompyrdi Iongpiah Upper Primary SSA katwa iwa le won cha ka Pohmusiang Upper Primary SSA.