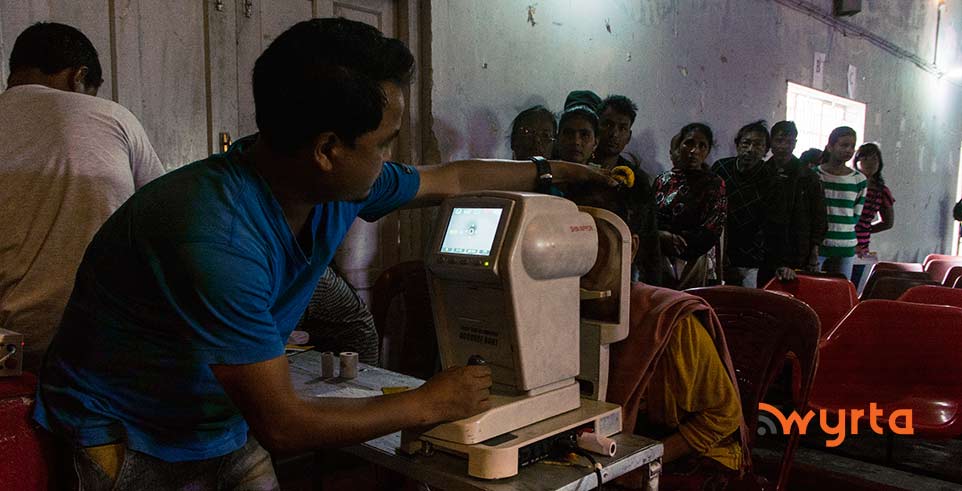 Hadooh 478 ngut kiwa yoh sumar khmat mynkna
by Wyrta Staff
Jowai : Ka Bansara Eye Care Center hei yakrehlang wa ka ophis u Deputy Commissioner, u Superintendent of Police wa ka ophis u DMHO, West Jaintia Hills ynne ka sngi da pynman ki ya ka sumar khmat wa mynkna ha District Library Auditorium, Mynthong, Jowai.
Da sdang ya ini i e sumar nadooh 9 waje i step ha ka yalang wa tbian heiwa da yoh i klam na u Additional Deputy Commissioner u DM Wallang, u Superintendent of Police, u R. Muthu, u District Medical & Health Officer Dr. I Tongper wa u Consultant Optometrist, Bansara Eye Care Dr. David Mathew. U Dr. Mathew ong u boon phaw lak ngut ki bru ha ri India wa yoh boon jait ki kjut khmat iwa ye u yah chadooh i thlah. Boon na kini ki kjut toh ki wa ye u kiar diewa biang i baam kamjooh leh da i dih ya ki dawai bitamin. Tangwa manda slem u chem ya ki kjut khmat boon hap u sumar ya ki ym ye de ki dawai u pynbha.
Ki paidbah na soodong ka Ri-loom Jaiñtia da wan ki cha kani ka e sumar khmat nadooh ki khonboo, khynroo wa tymmen yow yoh lad ki yoh ya ka check-up makna kamjooh wa ki dawai.
Da em leh ka eksamin ya ki khmat ki bru wa em kjut chini, kiwa em kjut khmat Glaucoma, Cataract wa kiwi kiwi.