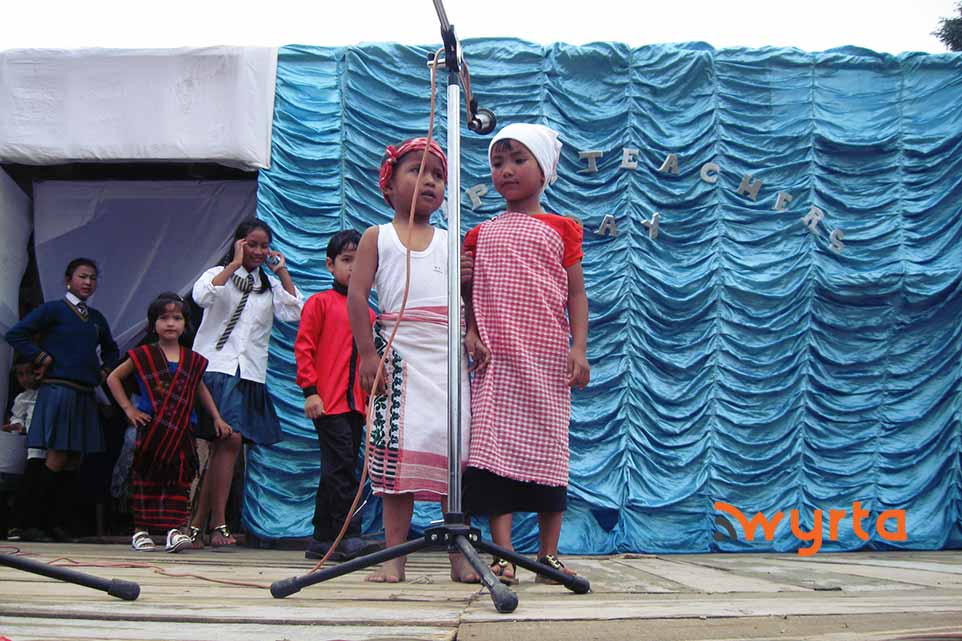 Leh warom nongsikai ki khynnah Church of God Secondary School Ummlong
by Wyrta Staff
Ummulong: Ynne ka sngi ki khynnah skur iong ka Church of God secondary School Ummulong kam chibynta u rakhe ia ka Teacher's Day  da leh pynem warom ki ia ki nongsikai kiwa em ha kani ka skur hapoh ka skur campus iong ki hi.
Ha chwa u sdang ki ia ka lehkmen ynne ka sngi da em chwa i ialang ha kawa da pynlai ia ka ialang da u Bestar Bang  khynnah puræ klas-X katwa ia ka welcome song da ioh na ki khynnah klas IX. U Mebanlam kharkongor  da e u ia ka klam pdiang haka wa da pdiang sniawbha  ia u Principal u ma J.M Kyndiah, u Headmaster u ma Trippleson Muksor kamjooh leh  ia waroh ki wakreh iong ka skur. Da em leh ka jingpyndien syntu ia waroh ki wakreh iong ka skur.
Hadien ka ialang da ioh ia ki  wapher wapher ki rwai, ki chad tynre, ki pynyo riam, ka leh drama tbian wa kiwi kiwi. Ha kawa khatdooh da em ka e sniawbha ia waroh ki nongsikai kamjooh leh ia ki kreh ophis da ki khnnah ka skur. Da ioh leh ka vote of thanks na ka Ibanri Ryngkhlem ka khynnah puræ klas-IX dei wa booh ko ki ktien sniawngooh wei kyrhu kyrdoh ia waroh kiwa kreh iong ka skur.