Man kyrpang ka suiñ-bneiñ ha Meghalaya kawa miat bha wow rep tit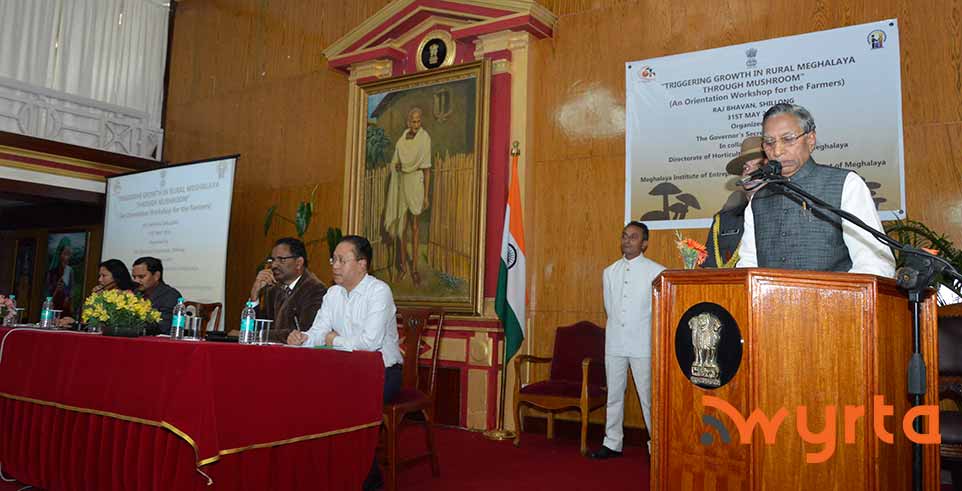 Advertisement
---
Advertisement
---
Shillong: Ka esikai wa chisngi cha kiwa rep hajrong ka phang "Triggering Growth in Rural Meghalaya through Mushroom" da wai ya ka ynne ka sngi da u lat ka jylla, u Ganga Prasad ha Raj Bhavan, Shillong.
Ya kani ka esikai da pynman da ka Governor's Secretariat, Shillong hei yakrehlang wa ka Directorate of Horticulture wa ka Meghalaya Institute of Entrepreneurship (MIE), Government of Meghalaya.
Advertisement
---
Advertisement
---
Ha kani ka esikai da wan chimbynta da ki warep na kylleiñ ka jylla.
U Ganga Prasad, hawa e i klam da ong u wa ka thong tong ka sorkar toh wow kyntu kynrong ya ka lap yong kiwa rep wei yeini ye u leh du deiwa wanrah ki warep ha kawi ka rynsan wei wow rep ki boonjait nadooh kam i ri mrad, wa i rep tit.
Da ong u wa ha i yaklam wa u Ambassador ka Japan uwa wan cha ka jylla ini wa dep da klam hajrong i rep ya u tit Shiitake ha Meghalaya deiwa kyntu ya ka Agriculture Department wow booddien yeini wa ka Japan Embassy.
Da kyntu u leh ya ki stat yong ka ICAR (Scientists) wow yarap wow pynku ya ka kaam rep tit katkam wa man i bneiñ wa ka rymaw cheini.
U K.N. Kumar, Agriculture Production Commissioner, da ong u wa ka India pynmih ko du 3% u tit hapoh pyrthai katwa ka China won pynmih ko 46% katwa kamtæ neidaw wa man kyrpang ka suiñ bneiñ ha Meghalaya kawa miat bha wow rep tit emkaam wow pynsñiawthooh ya ki paidbah yei myntoi wa mih na i rep tit khnang wow tipmit ya ka Meghalaya kam ka jylla wa khlan bha u pynmih tit hapoh ka ri.
Da ong u wa u tit emdor u hawa da chet da song ya oo katkam kani ka juk namo ka Processed Form, da ong u wa emkaam wow pynmih rap boon deiwa ong wa ka Directorate of Food Processing toh u pait ko leh ya i rukom song ya u tit.
Chooh chooh da pachat u wa emkaam wow pynbna ya 10 tylli ki chnong (5 ha Khasi wa Jaiñtia Hills wa 5 ha Garo Hills) kam ki Mushroom Hubs ki wow yoh yarap na ka sorkar deiwa kyntu ya kiwa rep wow rep ki ya ki tit wa boonjait.
Kiwi kiwa da klam ha kani ka sngi toh u Sampath Kumar, Commissioner and Secretary, Government of Meghalaya, Agriculture, ka M. N. Nampui, Secretary Agriculture wa u B.K. Sohliya, Director MIE.
Advertisement
Advertisement
Advertisement