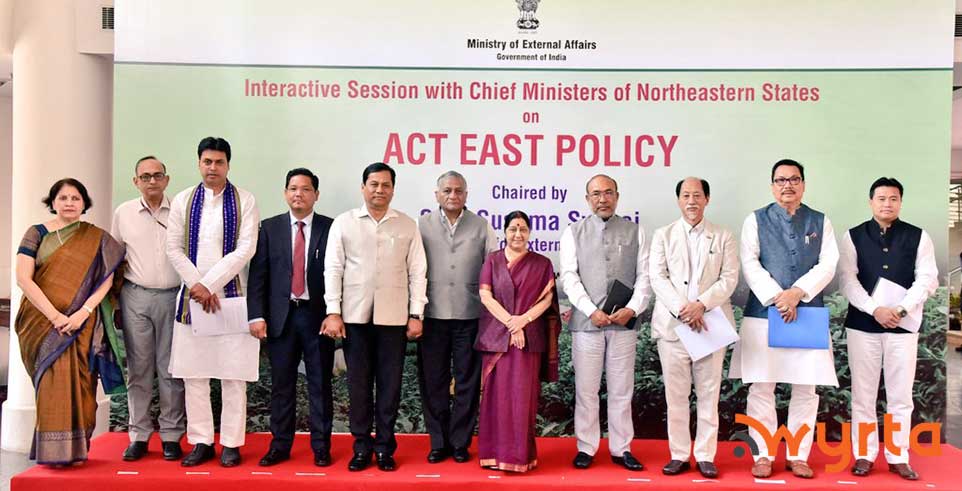 Pynksan u Conrad wa emkaam wow pynkrehkaam noh ya ka Act East Policy
New Delhi: U montri rangbah ka jylla, u Conrad K. Sangma ynnin da ong u wa jooh em i chitom wow pynkrehkaam ya ka Act East Policy wei dang pteiñ i yakrehlang ki jylla ka thaiñ mihsngi wa ka sorkar pyrdi wow lai chakhmat wow kyntu kynrong ya ka khayi pateiñ wa ki ri kiwa em cha liang mihsngi.
Hawa yaklam ha ka yalang wa chongknor da ka montri External Affairs ka ri, ka Sushma Swaraj da emlang leh ki montri rangbah ki jylla ka thaiñ mihsngi wei neiliang u Conrad da pachat u yei emkaam ki sorkar jylla wow chna ya ka luti wow pynkrehkaam ya ka Act East Policy.
Advertisement
---
"Hanlada ki jylla mihsngi da kheiñ ya ki kam kawi ka thaiñ tangwa waroh ki policy yong ki jylla ym yatoh namo ym sariem ki katwa kamtæ emkaam wow chna ya ki rukom krehkaam katkam i emkaam wa i dawa ki jylla kiwa yabi u pood wa kiwi ki ri," da ong u Conrad.
Ha kani ka yalang, u Conrad da kyntu u ya ka sorkar pyrdi wow pynmiat pynbha ya ki sarok ki luti syngkieñ hapoh ka thaiñ mihsngi deiwa booh ya ki sarok four-lane ha waroh ki phra jylla kamjooh leh wa kiwa yajan wa kiwi ki ri wow yarap wow kynrong ya i khayi pateiñ wa kiwi ki ri.
Hei yatoh wa ki Land Customs Station (LCS) ha Meghalaya, u Conrad da e yumut u wa ki LCS ha jylla lada toh kiwa katkam ka juk wa katni, daw yarap ko ya ka khayi pateiñ waka Bangladesh, ka wow yarap won ya kiwa rep ka jylla heiwa kiwa boon hi chaniah ki ha ka ka rep ka riang.
Da kyntu u leh wow chna ya ki thaw booh mar khamtam ya ki mar rep, wa kiwi ki mar hapoh Meghalaya wa kiwi ki jylla ka thaiñ.
Ha kani ka yalang da em u montri rangbah ka jylla Arunachal Pradesh, Nagaland, Assam, Manipur, wa Tripura.
U Dr Rajiv Kumar, Vice Chairman, Niti Aayog wa u Gen (Dr) VK Singh (Retd), Minister of State for External Affairs, Foreign Secretary, Secretary (East) na ka Ministry of External Affairs kamjooh leh ki Secretary na ka Ministry of DoNER, Tourism wa North Eastern Council da emlang ki ha kani ka yalang.
Advertisement