Rah ka NEIGRIHMS ya ka Inter Office Futsal Competition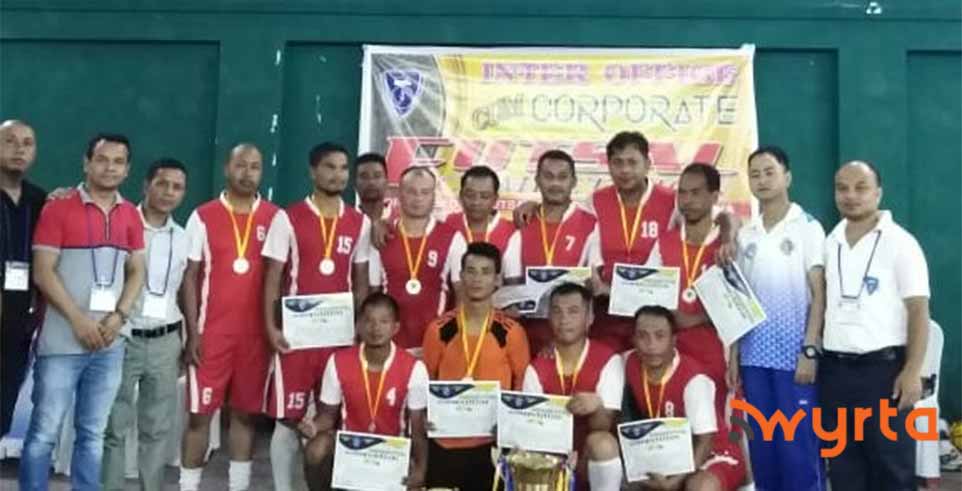 Shillong: Ka lympung yalehke Futsal kawa tip kam ka Inter Office Futsal Competition wa pynman da ka Futsal Association of Meghalaya (FAM) ha Laban Indoor Stadium da poi ko chawa kut heiwa ka NEIGRIHMS da pynrem ko ya ka MeECL da 6-2.
Ya ki kool ka NEGRHIMS da thap da u Brolington Warlarpih uwa da thap 4 kool, u Jerry Sutnga uwa da thap 2 kool, katwa ya ki kool ka MeECL da thap da u Ebormi Buam.
Ha kani sngi da wan pynhaap pyrda da u Hearing Shangpliang uwa man u DSO warim ka West Jaiñtia uwa da man kam u kongsan.
Hei klam yong oo da e yaroh u ya ki dkhot ka FAM wa da ye ki u pynman ya kani ka lympung deiwa ong wa ka Futsal man ko kawi na ki jait yalehke kawa kyntu ya ka Football hapoh ka jylla.
Da yoh leh yei klam na u President ka FAM u Dr. B. Langbang uwa da ong wa ka Futsal da sdang ko u pawnaam hapoh ka jylla wei da e khublei u ya ki dkhot ka FAM kiwa da khreh chitom wow pynku ya ka Futsal hapoh ka jylla.
Ha kani ka lympung da wan chim bynta da 16 tylli ki chnat sorkar wei yei naam Player of the Tournament da yoh da u Brolington Warlarpih yong ka NEIGRIHMS.