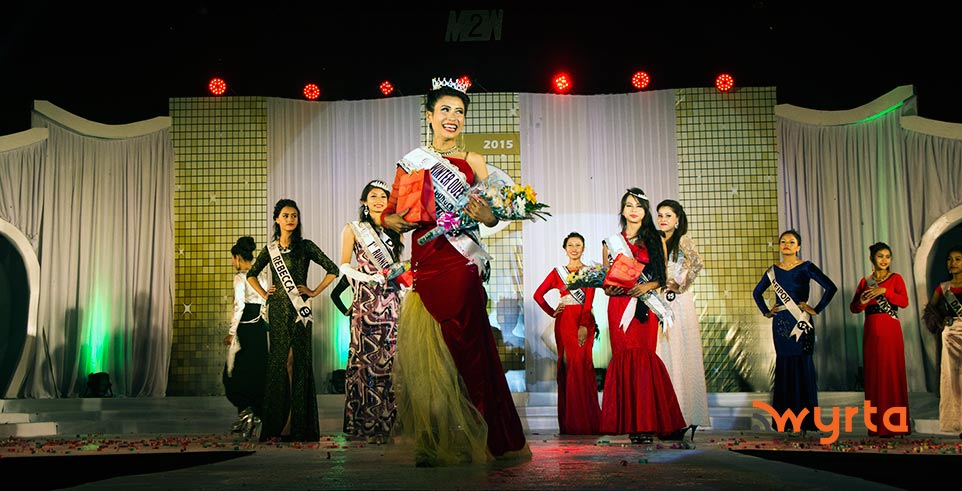 Rah ka Samila Pyngrope yei naam Winter Queen 2015
by Wyrta Staff
Jowai : Ka yakop miat kynthai Winter Queen 2015 ka wa da pynman ynnin ka miet 4 tarik da ka M2W Society ha Madan Jrisalein, Chutwakhu, Jowai man ko kawa phooh wa phieñ heiwa da ki spah ngut ki wa wan sakhi da yoh ki i pynwyrngai na ki wa chimbynta, ki nongrwai, wa chad wa i pynyoo rong riam na ki designer ka Isapaya Shullai, Amy Manbha wa ka Elizabeth Marbaniang.
16 ngut ki khyllood na Jowai kamjooh na Shillong wa kiwi ki thaw ka jylla da wan ki u pynyoo yei sap ki yow yoh u rah yei naam Winter Queen 2015.
Ha kani ka Winter Queen da jied ya ka wa jop hadien san kylla kitæ toh ka Traditional Round, ka Dance Round, ka riam Street Wear, ka riam Formal Wear wa ka kylla kylli jingkylli næ ka Question Round heiwa da chah jied du 5 ngut ki nongyachimbynta.
Ha chwa u pynbna ya ka wa jop da pynkup leh yei naam "Miss Congeniality" wa yoh da ka Samilia Pyngrope, i naam "Miss 10" da jop da ka Ibadahun Lyngdoh, i naam "Miss Photogenic" da pynkup ha ka Deikisha Lyngdoh Talang katwa yei naam "Miss Talent" da rah da ka Ibapynhun Eve Syiemlieh. Ya kini ki wa jop ya kini ki naam da jied ha ka kylla wa pyndep ha Shillong chi sngi chwa kani ka yakop khatdooh.
Poi biang cha ka miet yong ka yakop ki nongbichar da yoo biang yoo toh ki u jied kam ka Winter Queen 2015 ya ka Samila Pyngrope ka wa 22 snem i rta ka wa dang puræ BA (English) 3rd year ha St. Mary's College, Shillong
Ya i naam 1st Runner Up lane i nam wa ar da yoh ka Deikisha Lyngdoh Talang na Nongtalang ka wa dang puræ B.com Second Semester ha St. Edmunds College, Shillong.
Katwa yei naam 2nd Runner Up da jop da ka Ibapynhun Eve Syeimleih ka wa dang puræ BA Final year ka wa na ka chnong Nongpoh.
Ka wa jop ha uni u snem da yoh ko leh u rah ya ka song poisa wa T. 50,000. Ka wa wan wa ar da yoh ko T. 20,000 katwa ya ka wa yoh wa le won da yoh ko u rah T. 10,000.
Ya ka yakop da pyllai da u Ivan Suting.
Samila Pyngrope Crowned Miss Winter Queen 2015
Jowai : The Winter Queen 2015 beauty pageant held on the 4th December, organized by M2W Society at Jrisalein Ground Chutwakhu, Jowai came to glitzy and entertaining end where hundreds of audience in attendance were enthralled apart from the contestants but also by song, dance and fashion show by designers Isapaya Shullai, Amy Manbha and Elizabeth Marbaniang.
16 contestants took to the stage from Jowai, Shillong and other places of the state showingcasing both beauty and brains in the hope of being crowned Miss Winter Queen 2015.
This year's Winter Queen was crowned after 5 rounds of competition which included a Traditional Round, Choreograph Dance Round, Street Wear Round, Formal Round and a Question and Answer Round.
Before the crowning of Winter Queen 2015, winners of Sub-titles were announced where Miss Congeniality was won by Samilia Pyngrope, Miss 10 went to Ibadahun Lyngdoh, Miss Photogenic was won by Deikisha Lyngdoh and Miss Talent was won by Ibapynhun Eve Syiemlieh. The winners of the sub-titles were decided at an event held prior to the finale.
Coming back to the night of the event, the 6 judges presented their verdict and saw 22 year old Samila Pyngrope crowned as Miss Winter Queen 2015, a student of St. Mary's College, Shillong presently in her final year studying B.A. English. First Runner-Up went to Deikisha Lyngdoh Talang from Nongtalang who is studying B.Com Second Semester from St. Edmunds College, Shillong. The Second Runner-up title was won by Ibapynhun Eve Syiemlieh from Nongpoh.
This year's winner walked away with cash prize of Rs. 50,000 whereas the First Runner-up and Second Runner-up won Rs. 20,000 and Rs. 10,000 respectively.
Ivan Suting played host at this year's pageant.