Su ka Saikia Company T.2.50 Lak deiwa e kreh leh ya u khon u Dismarlin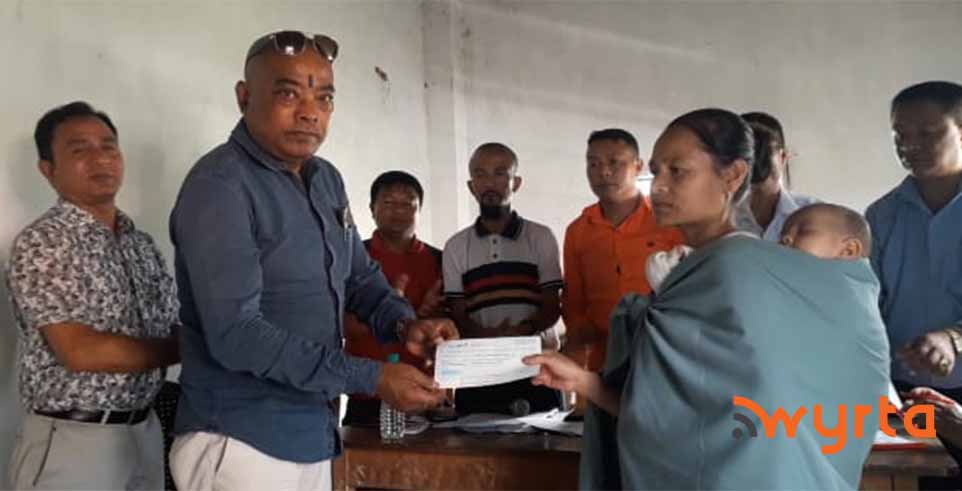 Shillong: Ka ME Saikia Trade & Transport company kawa yoh ya ka kaam Contract ha kudam ka Food Corporation of India (FCI) ha Khanapara, Ri-Bhoi District da su ko yaka bai lutksan cha ka yung u Dismarlin Lyngdoh Lyngkhoi (uwa da khlaad), T.2.50 Lak wei ya kani ka poisa da e kti da u tre kani ka Company cha ka kurim u Dismarlin hakhmat ki dkhot ka Joint Action Committee of Mawlai (JACM) ha ka yalang kawa man ha dorbar hall ka chnong Mawroh.
Kam wow pynkynmoo wa u Dismarlin da chah pynyap dusmon ha ka 24 tarik u Naitung (April) uni u snem ha kiwa yah truck kani ka Saikia Company haka Warehouse kawa em ha 10 Mer, Khanapara, Ri-Bhoi district.
Advertisement
---
Hadien ini i jia ya u Dismarlin, ka JACM da booddien ko khlem sangeh yow pynyoh ka bichaar hok neibynta uwa da khlaad wa yaka manyung yong oo, hadooh wa da pynman ya u tre kani ka Company, u Bipul Saikia wow chimkhia ya ini i jia deiwa su yaka bai lutsan, wei wow thung kreh leh ya u khon chynrang yong u Dismarlin ha katai ka Company.
Hawa klam ha katai ka yalang, neiliang u Bipul Saikia wa u Montu Saikia da pyntip ki wa ka Company ym em chong ngiah ko wow krehlang wa ki pulit yow yoh kem ya kiwa emkti wei da pynbna leh ha ki laad pahthai khubor ha Assam wow e khusnam T.50,000 (uwi u damok) ya kiwa pynkem ya kitai kiwa emkti kiwa da em 4 ngut. Ki heh kani ka Company da beiñ joor ki leh ya kani ka kaam wa leh kini ki 4 ngut wei da paan maap leh ki na katai ka manyung yeiwa leh ki wakreh yong ki. Ha kani ka sngi neiliang ka Company da ya soi soskular ko kamwa da khlai ki wow leh neibynta ka manyung u Dismarlin.
Neiliang won u Secretary ka JACM, u Seiborlang Lyngdoh Nonglait da pynsñiaw u yei kmen wa i booddien yong ka JACM da wanrah ko yei jop ya ka hok neibynta ka manyung u Dismarlin hanlada hadooh katni ym pu yoh wow kem ya ki damok wa emkti.
Da pyntip u leh wa nalor wa kani ka Company da dep ko wow e yarap ya katai ka manyung wei wow e kaam ya u khon chynrang. Da pyntip chooh chooh u wa yaka khon kynthai won da pynpsiah kaam Peon haka chnat Home Guard wa chipor yow yoh kyrchaan ya ka yung ka sem.
Katwa neiliang u Chairman ka JACM, u Donboklang Kharlyngdoh da pyntip u wa ya ar ngut kiwa ym em yarap ya u Dismarlin, kamjooh ya uwa pait ya ka Warehouse ha ka miet wa chah thombor da kyrriah kaam ya ki cha ri-loom Garo.
Advertisement
Advertisement