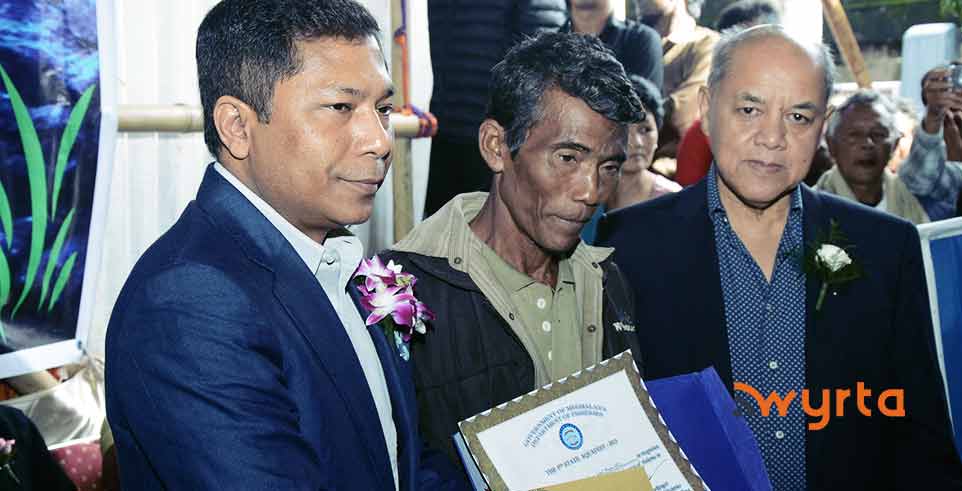 by Wyrta Staff
Advertisement
---
Shillong: The 3rd State Aqua-Fest was held in the premises of State Central Library, Shillong today. The fest was inaugurated by Chief Minister, Dr. Mukul Sangma and was also attended by Minister, Urban Affairs, Labour etc Dr. Ampareen Lyngdoh and Parliamentary Secretary, Sengnam Marak.
During his address to the fish farmers who had gathered for the fest from across the State, the Chief Minister expressed happiness to launch the State Aquaculture in a mission mode to create sustainable livelihood for the people. He said that when people have opportunities for increased income on a sustainable basis through various farming activities available around them people will start realizing that farming is an opportunity that will provide livelihood on a sustainable basis. Stating that fish imported from outside the state does not have the supply as per demand he added that the program has enabled the government to connect with the people and while bridging the gap of supply and demand to a certain extent the people have access to nutritious and fresh fish. He however informed that even to meet local consumption of fish a minimum of 5000 water area has to be brought under fish ponds. He therefore urged the partners of Aquaculture mission to increase their water areas for fish farming and expand the programme.
Advertisement
---
The Chief Minister also informed that the programme is also linked with credit which is channelized through Meghalaya Co-operative Apex Bank (MCAB) and re-financed from the National Scheduled Tribe Finance Development Corporation at a very low interest rate of 6 per cent only. He said that the Government has to provide more than 400 crore to meet the target and the government is making an effort to ensure that the momentum of releasing support to all the partners in terms of farming and marketing fish and giving farmers scientific training in farming fish is not dislocated. He said the fish farming should also promote indigenous varieties that are exclusive to Meghalaya and North East such as the 'Khalat' which is known as 'Na∙rong' in Garo. The Chief Minister also said that Meghalaya should be a destination for Angling and every District should have a calendar for Angling Fest in river sanctuaries which would in turn promote Tourism in the state. He also said that Ornamental Fish Farming is another space to look at and informed that separate workshops on Ornamental Fish Farming will be conducted across the state.
Special Guest, Additional Chief Secretary, Shri Hector Marwein said that the main intention of having the Aqua Fest is to bring all fish farmers under one platform to share and integrate ideas and provide opportunity to market their fish products. He said that the Aquaculture Mission has been sensitive to the diversity of fish while promoting fish farming and fish production ensuring fish farming activity in an environment friendly and sustainable basis.
Earlier, Director of Fisheries, I. R. Sangma informed that Rs 88 crores which includes bank loan and subsidy has been invested so far and more than 11000 ponds have been created and 8400 have been recommended and are at various stages of implementation. Rs 2.5 crores have been invested for seed production and fish feed mills.
The Chief Minister also gave away State awards to progressive and successful Aquaculture entrepreneurs from all the eleven districts of Meghalaya. The State awards carried a cash prize of Rs. 10,000 besides a memento and certificate. East Khasi Hills District Awards were also given during the function.
Others who were present at the inaugural function were Guest of Honor, Chairman, NESFAS, Shri Phrang Roy, officers from National Fisheries Development Board, Hyderabad and other senior officials. Stalls were also set up at the venue where fish farmers exhibited and sold their fish products. (MIPR)