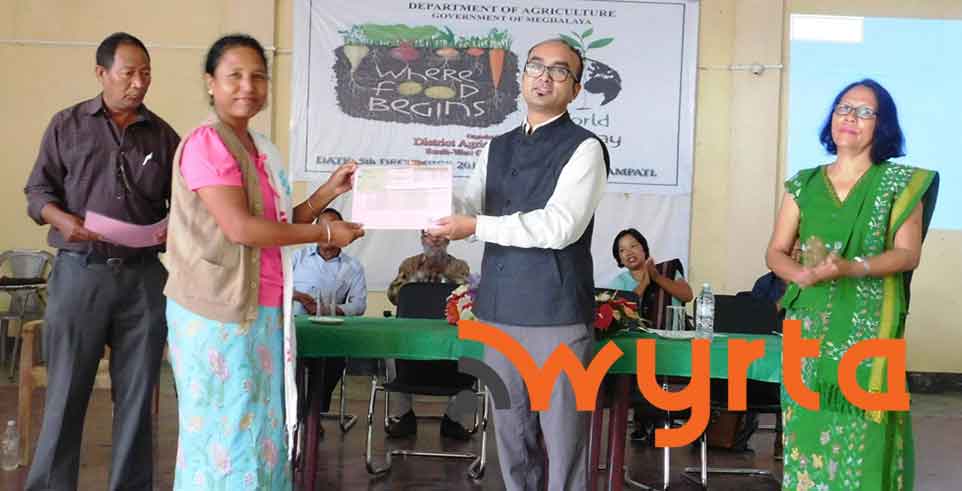 Ampati DC distributes Soil Health Cards to farmers
by Wyrta Staff
Ampati: South West Garo Hills Deputy Commissioner Cyril V D Diengdoh today distributed Soil Health Cards to farmers as part of the observance of World Soil Day at an elaborate gathering at Ampati Multi Facility Centre. The Soil Health Cards were issued to determine the status of micro nutrient and mineral content of the soil sampled from the lands of respective farmers after scientifically testing them at state run laboratories.
The programme organized by the South West Garo Hills district agriculture officer was attended by hundreds of farmers from across the district including the District Agriculture Officer A.G. Momin, District Horticulture Officer B.R. Marak, Superintendent of Fisheries George W. Momin and Sub-Divisional Agriculture Officer B.C. Momin amongst others.
Advertisement
---
Addressing the gathering as the Chief Guest, Diengdoh stated that the celebration was significant for the district as majority of the populace was engaged in agrarian practices for livelihood. Emphasizing on the need to keep the soil healthy the Deputy Commissioner spoke on the State's Mission Green initiative whereby an aggressive effort was being taken up by the government to make the region a chemical free zone through the introduction of organic supplements for agriculture. Rampant use of chemical pesticides and fertilizers is playing havoc with the health of the people who consume it, Diengdoh stated and urged the people to use organic fertilizers manufactured at their own backyards such as vermi-composts etc.
Speaking on minimizing the use of non-biodegradable substances such as plastics the Deputy Commissioner informed that he had met with all the market committee members of the district and sorted out a plan on minimizing the use of polythene bags. Urging farmers to practice alternate cropping by planting pulses and beans after harvesting paddy, Diengdoh stated that the district administration was encouraging farmers to build composting pits in their backyards to use as fertilizers for their crops. The Deputy Commissioner later urged the people of the region to make a committee for the disposal of plastic waste like bottles by creating a depot and selling the waste to vendors or recyclers.
Amongst others who spoke at the occasion were District Agriculture Officer A G Momin, District Horticulture Officer B R Marak and Sub Divisional Agriculture Officer B C Momin.
Advertisement