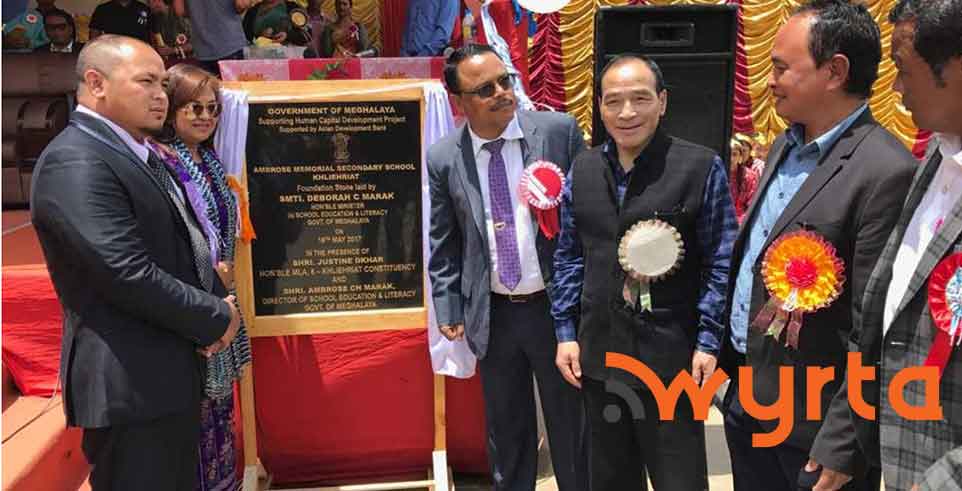 Booh Moo-yurim ka Deborah ya ki ar tylli ki yungskur ha East Jaiñtia
by Wyrta Staff
Jowai: Ka montri wa pait ya ka tnat puræ puthi ka jylla ka Deborah C. Marak ynne ka sngi da booh moo-yurim ko ya ka yungskur ka Ambrose Memorial School ha Khliehriat wa ka Byndihati Secondary School ha Byndihati.
Ka Deborah hei klam da e yaroh ko ya ka Managing Committee yong kini ki skur kiwa pyllai bait pyllai ryntih ya ki skur wow kyntu kynrong ya i stat i tip ha kini ki thaiñ.
Advertisement
---
Da pyntip ko wa ka sorkar jylla katni dang thooh ko ya ar tylli ki block ha ki district ki wow yoh yarap poisa na ka sorkar wow chna yungskur heiwa ka Ambrose Memorial School, Khliehriat u yoh ko T. 1.68 klur katwa ka Byndihati Secondary School, Byndihati u yoh ko T. 1.75 klur.
Ya kani ka poisa da yoh lyngba ka scheme Supporting Human Capital Development na ka ASEAN Development Bank.
Da yooluti ko leh wa kini ki yungskur daw yarap ki chiboon ya ki khynnah ha i puræ puthi kiwa wanrah kyrdan ya ki kamwa man ha kiwi ki bynta ka jylla. Da pyntip ko leh wa daw pynbiang ya ki computer, ki paikhana ya ki chynrang wa kynthai, ki kamra wow hikai ya kiwa sikai wa kiwi kiwi.
U MLA ka thaiñ u Justine Dkhar uwa man leh uwi na ki dkhot uwa sdang ya ka Ambrose Memorial School, Khliehriat da pyntip u wa ya ka skur da sdang ha u snem 2000 wei da pynku cha ka Secondary ha u snem 2006.
Kiwi kiwa da klam ha kani ka sngi toh u  M.S. Lhuid, Deputy Commissioner, East Jaiñtia Hills District wa u Ambrose Ch Marak, Director of School Education and Literacy.