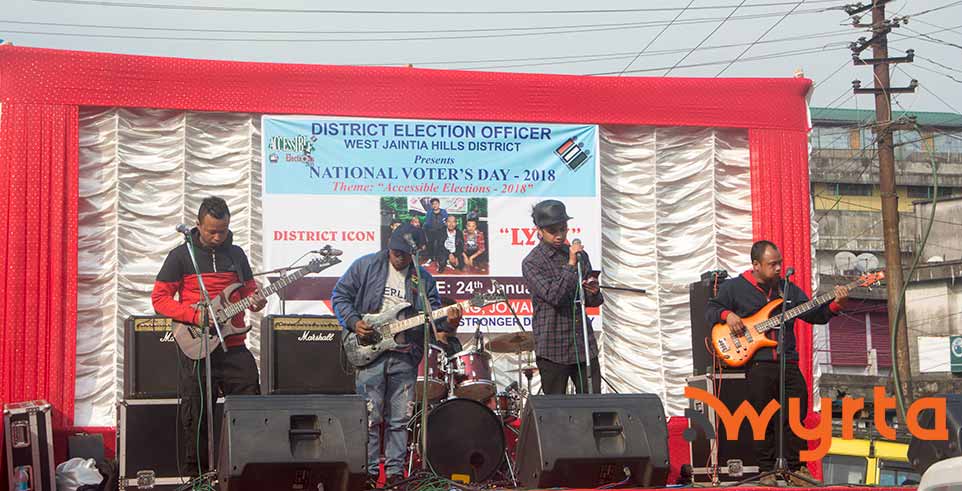 Pynwyrngia ka The Lynx kam ka District Icon ya ki paidbah ynne ka sngi ha Iawmusiang
by Wyrta Staff
Jowai: U District Election Officer ka West Jaiñtia Hills uwa man leh kam u Deputy Commissioner da jied ki ya kiwa tem wa pawnam ka chnong Jowai ki The Lynx kam ki District Icon neibynta ka National Voter's Day-2018.
Hei yatoh wa ini da pynman ya ka tem ka put ha MTC Stand Iawmusiang heiwa ki The Lynx da pynbang ki ya ki paidbah wa lai wa wan wa wan paitke da ki sur wa harukom.
Ha chwa wow sdang ka tem ka put, u SC Laloo, ADC da e u yei klam wow pynche paidbah wa da leh ya ini kam wow pynkynmoo paidbah yei hok thap Vote kiwa da em 18 snem kamjooh wow pynemkaam hok pynemkaam khooid ya ka Vote.
Da pyntip u leh wa ha uni u snem ka Election Commission of India da pynkhreh chitom ko wow pynyoh EPIC ya kiwa em i duna ha i doh i pran yong ki.
Chooh chooh da ong kam wow pynkhreh ya ka National Voter's Day kawa daw pynman mynstep ka sngi da dep pynman ya kiwa boon ki yakop wei mynstep dang step daw em leh ka yakop phet Marathon wei heipor 11 waje daw em leh ka yalang ha yungkrehkaam u DC heiwa daw leh burom leh ya ki Millennium Voters iwa mut kiwa kha haka 01-01-2000.