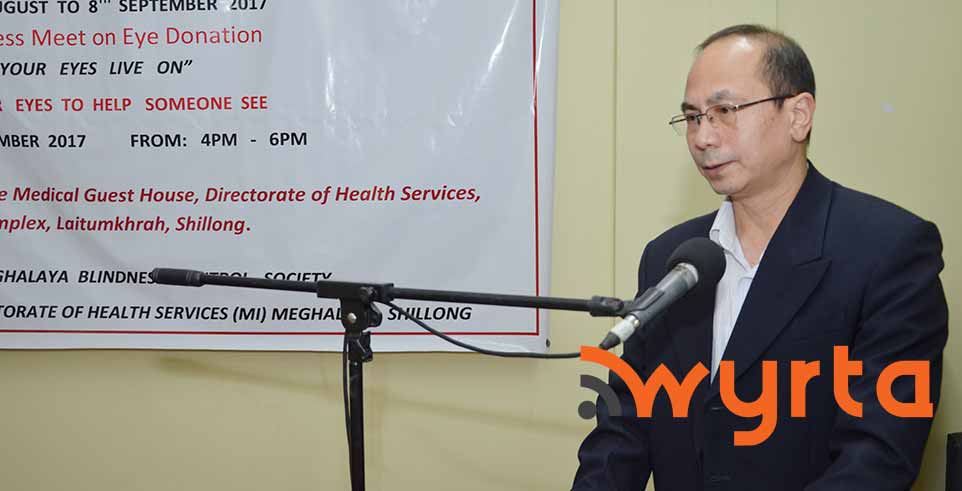 Da pynman ya i pynsñiawthooh hajrong i e sñiawbha ya ki pyllung khmat
by Wyrta Staff
Shillong: Kam chibynta yong ka 32nd National Fortnight on Eye Donation, namo ka sngi wow kynmoo yei emkaam u e sñiawbha ya ki pyllung khmat cha kiwa emkaam ya ki, ka yungkrehkaam u Director of Health Services (MI) chirup wa ka Meghalaya Blindness Control Society da pynman ki ya ka Awareness Meet on Eye Donation namo wow pynsñiawtgooh paidbah hajrong i e sñiawbha ya ki pyllung khmat.
Ya ini da leh ynnin ka 8 tarik ha Conference Hall ka State Medical Guest House, Directorate of Health Services, Health Complex, Shillong.
Ya kani ka sngi wa tip leh kam ka National Fortnight on Eye Donation da leh man u snem nadooh ka 25 Naisaphra hadooh 8 Naikhynde.
U Additional Chief Secretary cha ka Government of Meghalaya, u P. W. Ingty da man u kam u kongsan ha kani ka sngi.
U Ingty hawa e i klam da ong u wa em kamwa 1.2 lak ngut ki bru wa chah ktah heibor wow chynna wei ini toh neidaw wa duna i bynta ki pyllung wa tip kam i Cornea wei ha man u snem em hadooh 20,000 ngut kiwa chah ktah neini heiwa ya kam kini ye ki u yoh yarap wow chynna biang deiwa leh ya ka Corneal Transplantation.
Hanlada em kamwa 65,000 kiwa e sñiawbha ya ki pyllung khmat haki Eye Banks ka sorkar wa ki seiñ kreh monsñiawbha da ong u wa kam kini ki yalang pynsñiawthooh paidbah man ki kiwa emkaam bha.
Ha kani ka sngi da yoh i batai na u Dr. A. K. Das, Retd. DHS (MI) hajrong ka phang "Organ Donation", u Dr. P. K. Goswami, Head of Department of Ophthalmology, NEIGRIHMS wa ka Dr. J. V. Basaiawmoit, Director, Bansara Eye Care Centre da e batai ki lyngba ka power-point presentation hajrong ka "Eye Donation & Eye Bank" wa "Preventive Aspects of Corneal Blindness".
Ha kani ka pynsñiawthooh da em leh ki khynnah ka Bansara Institute of Ophthalmic Sciences kiwa da lehke drama wa tbian hajrong ka Eye Donation.
Ha kani ka ngi da em leh u Dr. R. O. Budnah, Director ka Health Services (MI), Dr. D. Lyngdoh, Director ka Health Services (MCH&FW) wa ka Dr Y. A. Phira, kawa man leh kam ka State Nodal Officer, Organ Transplant.