Da wai pyrda ya ka 17th Invitational Football Gold Cup Tournament ha Shangpung Moosyiem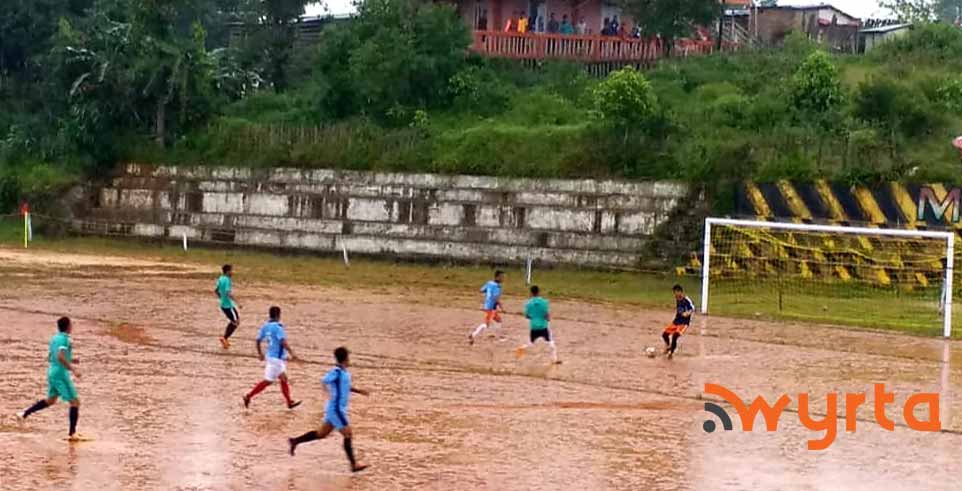 Advertisement
---
Advertisement
---
Jowai: Ka 17th Invitational Football Gold Cup Tournament wa pyllai da ka Moosyiem Cultural and Sports Club (MCSC) da wai pyrda ya ka ha madan Moosyiem Shangpung ha ka 10 tarik uni u bnai da u kongsan u A. Andrew Shullai, MDC ka JHADC hei emlang u Treilang Suchiang, Local MDC, Shangpung kam u symbood kongsan, u Chanky Langbang (Acting Dolloi) Shangpung Elaka, u Dr. Brightstar Langbang, President, Futsal Association of Meghalaya.
U kongsan hei klam yong oo da e khublei wei da yaroh u yaka MCSC wa ye ko u pyllai kam kani ka Tournament khamtam wa e ko i myntoi ya ki khynnah khynroo kani ka thaaiñ yow yoh ki u pynyoo yei sap yei phong yong ki, man ko leh kam ka thaw u pyllut por khnang u yoh yei chait yei nang wei wow lait na ki kaam wa sih kam ki dih pynmuaid. Sñiawkmen u leh wow tip wa em ki dhab na kylleiñ kylleiñ ka ri Jaiñtia kiwa wan ya chimbynta ha kani ka Tournament.
Advertisement
---
Advertisement
---
Hawa kyruiñ won cha ka yalehke kawa nyngkong hawa sdang ya kani ka Tournament da sakhi ki paidbah ka yakhun kawa yatoh bor wei kawa yoosuk hapyrdi ka Sohkymphor FC waka Sutnga FC heiwa ka Sohkymphor FC da jop ko yaki yakhun da 2-1.
Kam wow pynkynmoo ya kiwa maya yalehke bol wa dang em thaw wa lait ya ki dhab kiwa kwah u chimbynta sa kattu katni ha kani ka tournament wei kiwa jop ya ka Final yong kani ka Tournament daw yoh ki u rah ya ka song poisa kawa T. 2 lak, i ksiar chiteiñ tola wa ka trophy katwa ka dhab wa wan wa ar wan daw rah ko ya ka song poisa kawa T. 1 lak, i ksiar chiteiñ tola wa ka trophy.
Advertisement