5896 tylli ki Anganwadi Centre yow yaleh pyrchah ya i wym biang baam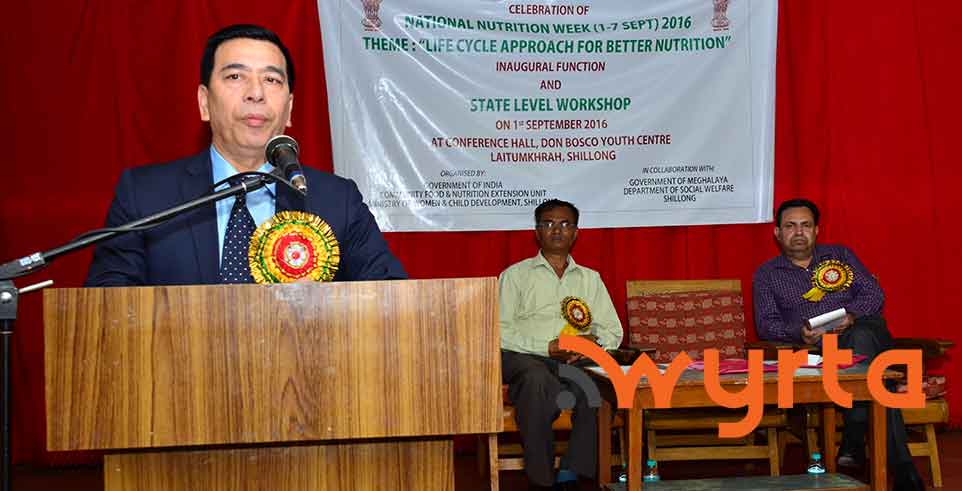 Advertisement
---
Shillong : Kam chibynta wow kynmoo yei emkaam u baam ya ki baam wa biang yow lait na i duna i heh i san i tei i doh i pran ki khnonboo, kiwa pun khon kamjooh ki khynnah wa dang heh dang san, da pynman ya ka National Nutrition Week 2016, ha Don Bosco Youth Centre, Shillong.
Da wan wai ya ka yalang da u H. M. Shangpliang, Director of Social Welfare heiwa ka phang ha kani ka sngi toh "Live Cycle Approach for Better Nutrition."
Advertisement
---
U ma Shangpliang hei klam yong oo da ong u wa i thmu wa kongsan dooh wa pynman ya kani ka Nutrition Week toh yow pynche ya ki paidbah yei emkaam u baam ya ki baam wa biang yow chait u khiah wa kamjooh leh wow pynkhlan hi leh ya ka yoh ka kot ka jylla hi waroh.
Yow pynduna yei duna namo wym biang baam da ong u wa ka tnat Social Welfare lyngba ki 5896 Anganwadi Centres, kiwa em ha kiwa boon ki chnong kiwa kynjooh cha waroh ki khynnah, ki khonboo, ki kynthai wa dang pun khon kamjooh kiwa dang e yimbu khon wa ki khynnah kynthai wa dang khai khynroo yow sikai ya ka ki wow chimkhia ki, yow baam ki baam wa miat khamtam ya kiwa wan ni ki yung wa duh wa duk.
Da pynchlur u leh ya waroh kiwa kreh yow sumaar bha ya kiwa wym biang baam neibhah boon ki por duna ki leh heibor jabieñ iwa ktah bha ya ki ha i puræ puthi.
Ha kani ka sngi da yoh boon ki klam ha ki phang waphær waphær kam ka "Live Cycle Approach for Better Nutrition", "Role of Education, Prevention, Control and the Management of Life Style Diseases for Better Nutrition" wa "Importance and the Significance of Nutritional Intervention Approaches and Techniques During Early Childhood and Late Childhood".
Da pynman ya kani ka yalang da ka Community Food & Nutrition Extension Unit (CFNEU), Ministry of Women and Child Development, Shillong hei ya krehlang  wa ka tnat Department of Social Welfare, Government of Meghalaya.
Advertisement