Angnood u Conrad wow yakrehlang ka Meghalaya wa ka NASA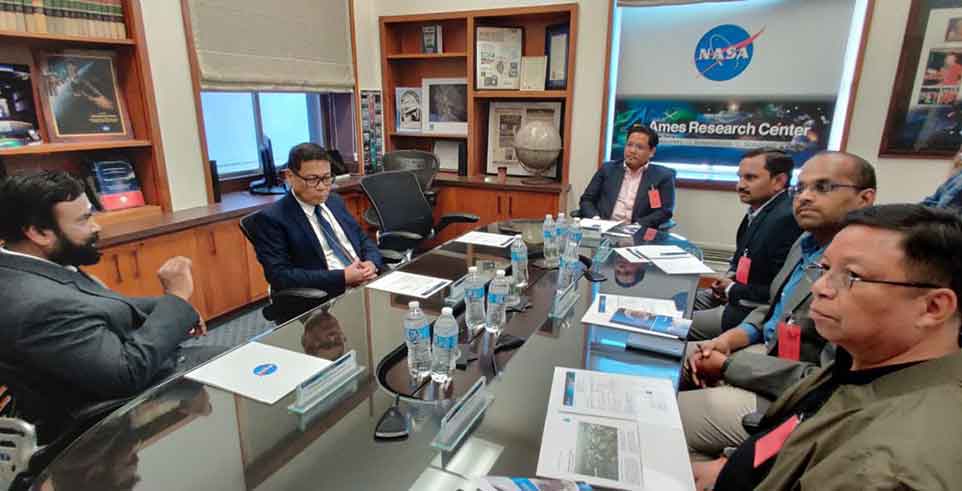 Shillong: U montri rangbah ka jylla, u Conrad K. Sangma ynne ha USA da yachem u wa ki heh ka Wipro Silicon Innovation Centre chirup wa ki heh ka sorkar jylla wa uwa ebuit ya u montri rangbah, u Thomas A. Sangma, Commissioner and Secretary P. Sampath Kumar wa u Deputy Commissioner, South West Garo Hills u Ram Kumar.  
Ka yaklam ha kani ka yachem kynthup ko yakrehlang ka jylla Meghalaya wa ka Wipro ha California khamtam heiyatoh wa ka stat ka juk katni kamjooh leh i chait i khiah ki kynthai wa ki khynnah. 
Advertisement
---
Ki heh ka jylla da lai ki leh cha NASA Ames Research Centre, wa ka UAS Traffic Management Research Centre wa kiwi ki chnat ka NASA. Ki heh ka NASA da batai ki leh hajrong ka Unmanned Aircraft System Traffic Management.
U Conrad da ong u wa angnood bha u wow kreh wa ka NASA lyngba ka University of California wow pynemkaam ya ki Drone hawa em i chah ktah na ki bor ka rymaw, wow pynpoi dawai dachin cha ki thaw wa jngai wa kiwi kiwi. 
U Conrad da kyrmen bha u wow pynemkaam ya ka stat IT neibynta wow yarap ya ki bru liang wanang. 
U Conrad da yachem u leh wa u Ed Catmull, Co-founder yong ka Pixar Studios wa da yoh 6 tylli ki Academy Award heiwa da yaklam kammon wow wanrah ya ki buit hapyrdi ki seiñ wa ki kaam wa kreh ki. 
Da esñiawbha leh ya ka muka wa chna na ukse ryndia ha u Ed Catmull uwa da yaroh ya ini ki rukom chna ya ka.
Ynnin u Conrad da yachem u leh ya ka Carol Welch, Director, Strategy Planning & Management wa u Orin Levine, Director, Global Delivery Programme yong ka Bill & Melinda Gates Foundation heiwa da yaklam chaphang ka MOTHER App wa thmu ka sorkar wow sdang heiyatoh wa i chait i khiah ki kynthai khynnah, i stat i tip wa i kaam pynroi ha ki thaaiñ palat sor. 
Ka sorkar da paan yarap ko leh na ka Bill & Melinda Gates Foundation heiyatoh wa kani ka MOTHER (Meghalaya Outcomes Oriented Transformation in Health, Nutrition, Education and Rural Development) App.