---
Advertisement
---
Advertisement
Booddien ka EAC ya i kreh ya ka jhaad kit lieñsuin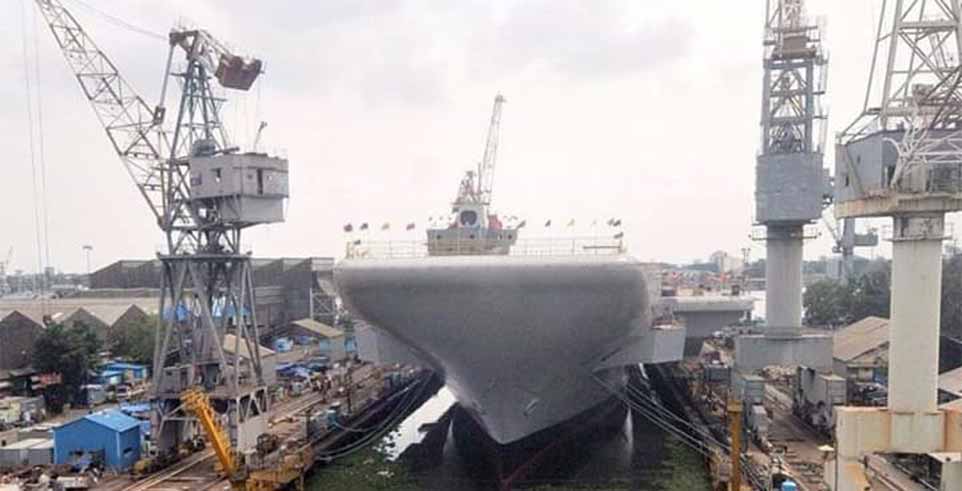 Advertisement
---
Ka Empowered Apex Committee (EAC) wa khlieh da u Defence Secretary ka ri, u Ajay Kumar chirrup wa ki sahep ki chipai duriaw namo ka Indian Navy wa kynthup ya u Vice Admiral, Ashok Kumar wa u Vice Chief of Naval Staff and Vice Admiral, GS Pabby ynnin ka 20 tarik da lai booddien ki ya i kreh ya ka jhaad wa kit lieñsuiñ wa da chna hapoh ka ri wa da tip kam ka Indigenous Aircraft Carrier (IAC-P71) ha Cochin Shipyard Limited.
Ha ini i lai booddien da sylli yillu ya i kreh ya kani ka jhaad heiwa daw sdang noh ya ka Basin Trial ha uni u snem ya i wow bood won ya ka Sea Trials hapyrdi uni u snem.
Katkam ka yutip na ka Press Information Bureau (PIB) da ong wa ini i booddien da pynman hadien wa soi ya ka soskular yong ka bynta wa le yong i kreh ya kani ka jhaad ya iwa da tip leh kam ka Phase-III hapyrdi ka Ministry of Defence wa ka Cochin Shipyard Limited.
Da pyntip wa i kreh ya kani ka jhaad da man i iwa dajan dep heiwa da sdang pynkrehkaam ya ki kor namo ki Gas Turbine wa pynlai ya kani ka jhaad wei ki kor pynmih bordiñ namo ka Power Generation System, i kreh man i iwa dang lai chaaid chaaid.
Ya kani ka jhaad IAC-1 wa da chna ha Cochin Shipyard, Kochi ka jylla Kerala, da booh wow e pyrtuid ya ka kam ka INS Vikrant heiwa i kyntien Vikrant da chim na i ktien Sanskrit iwa mut "Wa Chlur".
Ki kyntien imsngi kani ka jhaad toh 'Jayema Sam Yudhi Sprdhah' iwa mut wow pynrem ya kiwa yaleh pyrchah.
Kani ka jhaad manda pynkrehkaam ka Indian Navy ka daw kit ko hadooh kamwa 40 tylli ki lieñsuiñ yapam wa kynthup ya ki MiG-29K, ki lieñsuiñ niangkachiah Kamov Ka-31, Westlang Seaking wa ka HAL Dhruv (kawa da chna hapoh ka ri).
Advertisement