Booh mooyurim u Conrad ya ka kaam saam um ya ka chnong Tura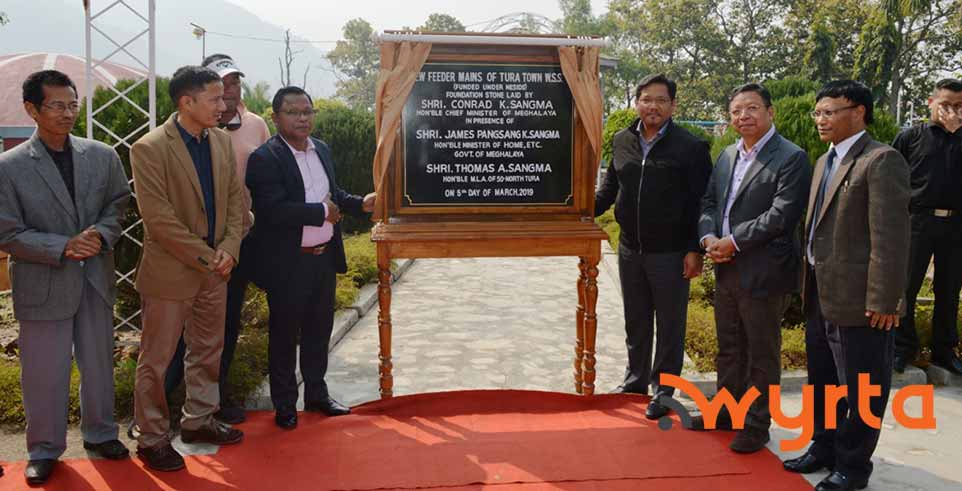 Tura: U Montri Rangbah ka jylla, u Conrad K Sangma ynne ka sngi da booh mooyurim u ya ka New Feeder Mains hapoh ka Tura Phase I & II Water Supply Scheme ha Water Treatment Plant hajan Bishop's House, Tura hei emlang u Adviser u Conrad, u Thomas A Sangma, Government Chief Whip, u Marcuise N Marak, wa kiwi kiwi.
Hawa e yei klam u Conrad da ong u wa kani ka Scheme toh kawa yarap poisa da ka Ministry of Development of North East Region (DONER), India hapoh ka North East Special Infrastructure Development Scheme (NESIDS).
Da ong u wa i duna um ki paidbah da pynman wow pyndep ya kani ka Project saam um khmatam ya kiwa chong chnong ka Tura. Da ong u leh wa wow pynkhreh ya ka Detail Project Report (DPR) da chimpor chi snem wow pyndep wei da e poisa T. 35 Klur yow pyndep hapoh chi snem.
Kamtæ u Conrad da phah u ya u Deputy Commissioner, Chief Engineer wa kiwi ki sahep sorkar wow boodien ki ya kani ka kaam yow pyntikna u pyndep heipor.
Da pynsñiaw u leh yei sñiawngooh ya u Nokma wa ki paidbah ka Dura Kalakgre wa ki chnong wa em cha jan wa yarap ki wow e thaw wow sdang ya kani ka kaam saam um wei da phah u leh ya ka chnat PWD wow chna sarok ya ki, ya ka chnat PHE wow chna ko ya ki thaw pyllang um wa ya ka chnat i chait i khiah wow booh ya ka Public Health Centre wa paka katkam wa dawa ki paidbah ka chnong Dura Kalagre.
U Chief Engineer, PHE, Meghalaya Shillong u S K Blah da pyntip u wa ka um toh kawa taan naka wah Ganolsa wei kani ka kaam wow saam um da hap wow booh thymme ya ki laad wow saam um namo ki Water Feeder, u kylliang ya ki Pipe warim wa kiwi kiwi wei manda dep daw ye wow e 23 million liter ka um man ka sngi heiwa i emkaam toh 20 million liter chi sngi.
Kani ka Project daw yarap ko ya 36060 ki manyung kiwa em 1,80,300 ngut ki bru.