Boon tylli ki mrad khloo yoh pyllait ka tnat Wildlife ha kini ki bnai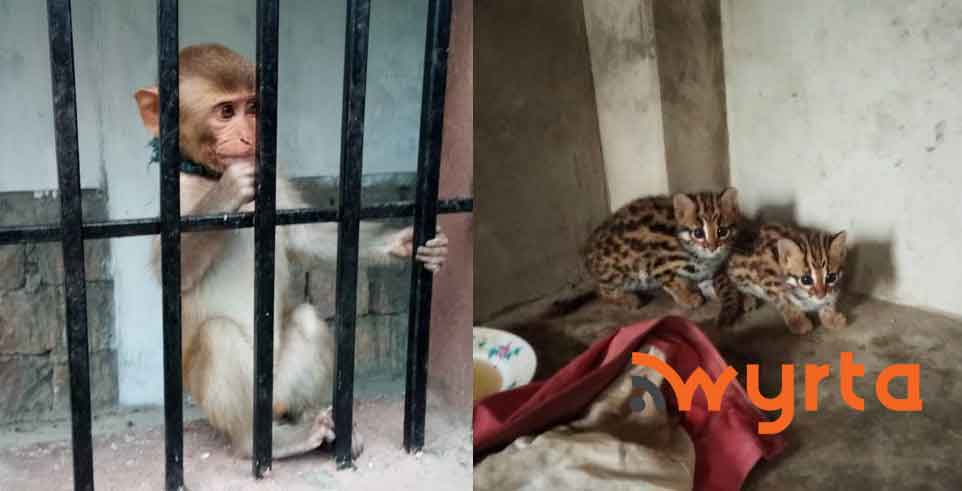 Advertisement
---
Jowai: Ka tnat Wildlife yong ka Forest and Environment Department da yaleh ko katwa ye wow pynsñiawthooh ya ki paidbah wa ymhoi u tynyap mrad, næ wow kem mrad wei lada em kiwa kem wei ri mrad kani ka tnat lai chim ko ya kini ki mrad wei pyllait ko ya ki cha khloo wa toh u em ki.
Ha kini ki bnai wa da lai kani ka tnat dei yarap ki bru samen da yoh ki u pyllait ya ki mrad cha ki khloo.
Ha kani ka 10 Naisan u Damonmitre Phawa da pyllait u ya i Khlasim (Leopard Cat), ha ka sngi wa bood u Chembha Phawa won da pyllait im u ya ar tylli kini Khlasim na Krem Labit, ha ka 12 tarik won u Charak Nongpluh na Maskut da pyllait u ya ar tylli kini ki Khlasim.
U Bhamon Lyngdoh da pyllait u ya u chrieh (Assamese macaque) wei kam uni hi u chrieh ha ka 25 tarik da pyllait na Khliehriat uwa thied uwi u bru na Guwahati, na Tpep-pale da em wa pyllait ya kawi ka dhoh (Brown Wood Owl), u B. Lamar na chilliangraij da pyllait u ya ki sim (Water Birds) ha ka 10 tarik uni u bnai wa da dep.
Kini ki bru da pyllait im ki ya kini ki mrad deiwa ekti ya ki cha kiwa kreh kani ka tnat.
Hadien wa ekti ya ki da rah ya ki cha u Doctor ka Veterinary and Animal Husbandry yow sylli yei chait i khiah ki wei wow sumaar ya ki lada emkaam.
Heijooh i por lada man ki mrad kiwa dang khian da phah ri chwa ya ki ha i thaw yong ka tnat wa em ha Salaroh, Jowai wei manda rap chran ki daw pyllait ya ki cha khloo.
Ha ini i thaw katkam wa man katni dang ri wei sumaar ya le tylli ki khlasim kiwa dang 2-3 bnai, wa ya u chrieh.