Career guidance and training for police aspirants begins in SWGH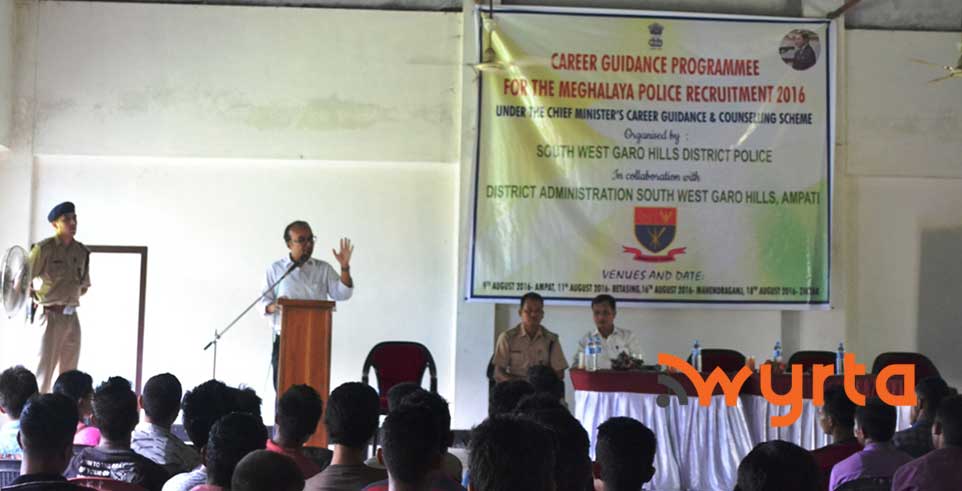 Ampati : A day-long career guidance and training programme was held for the young aspirants wanting to join the Police Force at Ampati Multi Facility Centre today, which was attended by hundreds of youth of South West Garo Hills district who have applied for various posts in the Meghalaya Police.
This is the first of a series of such programmes to be held in different places across the district in the next few days, which is being conducted by the District Police, in collaboration with the District Administration, South West Garo Hills, under Chief Minister's Career Guidance Scheme to prepare and train the youths of the district aspiring for jobs in the police force. As such, similar career guidance programmes will be held next in Betasing on August 11,  Mahendraganj on August 16 and Zikzak on August 18.
Addressing the young applicants as the chief guest during the brief inaugural function, Deputy Commissioner C.V.D. Diengdoh highlighted the importance of the police force for peace and development, saying that the job of the police is unlike any other government jobs and that it is more of a service to the community and the society.
"The police is the first of the government machinery to respond to any crisis or law and order problem and therefore being in the police calls for a lot of dedication and commitment", the Deputy Commissioner said and expressed his happiness that a large number of youth from the region have come forward to join the police. Stating that the basic thing the young aspirants need to have is the mental strength, he said that this training cum motivational programme is being organized for their benefit, to guide them and motivate them to do their best in the recruitment tests. He urged upon them to make fullest use of the opportunity being given to them and wished them success in joining the police force."
Additional Deputy Commissioner, P.K. Boro and Additional Superintendent of Police, B. R. Marak also gave motivational talks to the youths present and expressed hope that the career guidance and training programme would help to guide them and prepare them physically and mentally for the recruitment exams.
Later during the training session, the DSPs on probation, Orville Massar, B. Jyrwa and H. Marbaniang gave useful tips and instructions to the participants on what is to be done during the physical and written tests for recruitment to the State Police.
A short video clip on the Meghalaya Police, depicting the policemen as real life heroes, was also presented during the programme as an inspiration to the youth.