Cha ki yakob Reality Show ka ri u yah ya kiwa jop ha ka Jaiñtia Got Talent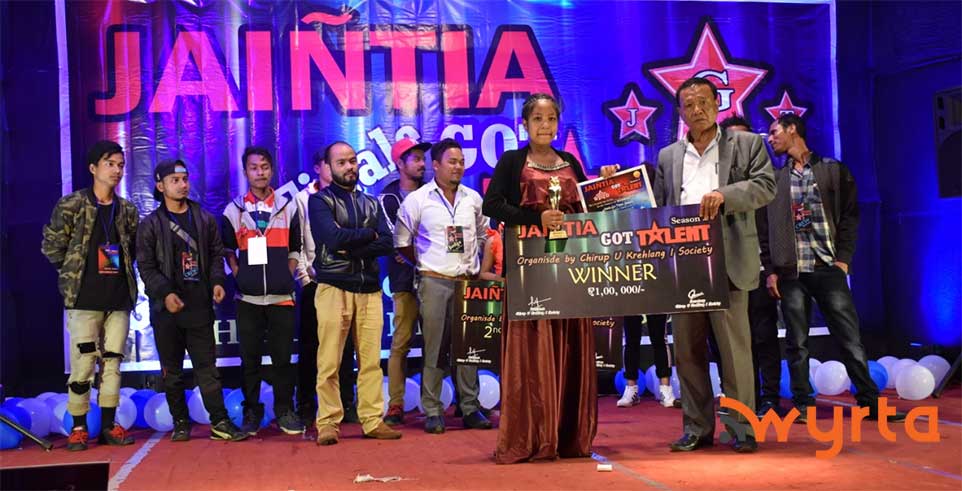 Advertisement
---
Jowai: Ka rynsaan pynyoo sap namo ka Jaiñtia Got Talent da poi ko chawa kut ha kani ka 20 tarik uni u bnai ha District Library Auditorium, Jowai heiwa da wan sakhi ya ka da ki spah ngut.
Ha kani ka sngi khaddooh da wan leh u Dr. P. Nongtdu kam u kongsan uwa man leh kam u Principal ka Jaiñtia Eastern College Khliehriat, u DH Pde kam u symbood kongsan uwa man leh u Incharge ka Jowai Traffic Police, u Dapoiwanmi Laloo, President ka MPUF, uwa man leh u kyrtong MDC na Jowai Central Constituency, u Mehiwot Lamare, waheh chnong ka Mynthong, wa kiwi kiwi.
Kam wow pynkynmoo heini ya kani ka yakob pynyoo sap da pynman da ka Chirup U Krehlang I Society.
Ka yakob yong uni u snem da jop da ka Durka Suchiang kawa da yoh 100% ki Points kawa na chnong Shangpung, kawa man ka khon ka Witil Suchiang wa u Proful Decca, yei naam wa ar da rah da ki Hearts of Heaven kawa yahkhmat da u Joe Dickingson Siangshai kiwa da yoh 91% kiwa na Ladthadlaboh, yei naam wa le da rah da ka Daisy Full Padu kawa da yoh 87.8 % na ka chnong Nongtalang kawa man ka khon ka Valentina Padu wa u Philous Lyngdoh Talang.
Ka seiñ da pyntip ko leh wa daw yah ko ya kiwa chimbynta kiwa yoobiang ko wow lai chimbynta ha ki yakhun Reality Show waphær waphær wa em ha ka ri waroh kawi wei da jied ya ka Durka Suchiang wa u Shanbor Mylliem wow lai yakhun ki cha ka Indian Idol ka wow man ha u snem wow wan.
Da jied leh ya ka Daisyfull Padu, u Serial Syrti, ka Ahbok Langshiang, u Famous Chyrmang wow lai chimbynta ki ha ka Dance India Dance, katwa ya ka Heart of Heaven, u Chewi Donmi C Khonglah, u Armanki Nikhla wa u Pynsuk Langki Kjam wa kiwi cha ka India's Got Talent.
Ka Society da e ngooh ko leh ia waroh kiwa wan sakhi ya kani ka yakob nadooh wa sdang.