Chimkti ka CISF ya ki Bhabha Kavach Bullet Proof Jacket wa chna hapoh India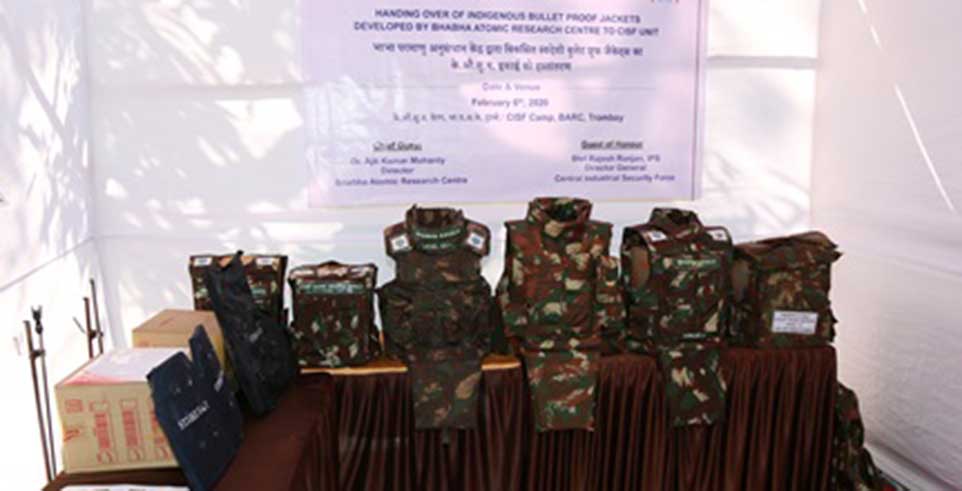 Advertisement
---
Ha ka yalang wa tbian wa da pynman ha ka CISF UNIT, BARC Camp ha uni u bnai u Dr. A. K. Mohanty, Director BARC da ekti u ya 55 tylli ki Bhabha Kavach Bullet Proof Jacket ha u Rajesh Ranjan, Director General, CISF.
Ka Bhabha Kavach wa da chna pynwandur da ka Bhabha Atomic Research Centre (BARC) toh ki Bullet Proof Jacket kiwa khia du 6.8 kilo donhi. 
Kini ki toh kiwa da chna hapoh ka ri wei man ko leh kawi na ki thong krehkaam ka sorkar ka 'Make in India'. 
Ka Bhabha Kavach toh kiwa dadep ya ki Ballistic Test katkam ki kyndon ka National Institute of Justice (NIJ) wa ka Bureau of Indian Standards (BIS). 
Ki Bhabha Kavach toh kiwa ye u pynsangeh ya u kuli 7.62 x 39 wa siat na ka suloi AK 47, ki kuli 5.56 x 45mm Ball MK M wa siat na ki Indian Small Arms System (INSAS) wa ki Self Load Rifles (SLR)/Bolt Action Rifle.  
Ya ki Bhabha Kavach da pdiang (Approve) ya ki da ka Ministry of Home Affairs neibynta ki Central Armed Police Forces (CAPFs).