Chna u Doctor na India ya i Tattoo wow thaw yei chait i khiah ki bru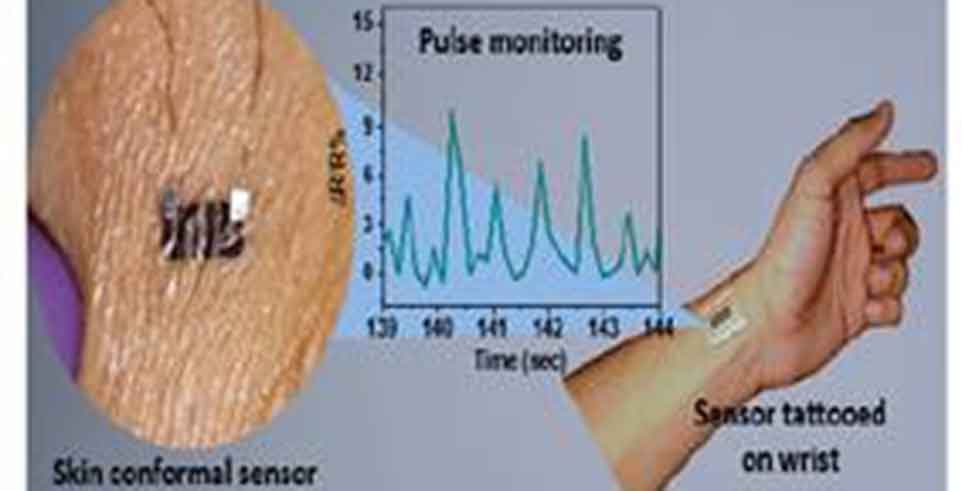 Advertisement
---
Ki Skin Conformal Sensor namo ki tiar wa ye wow biah ha i snieh-doh kiwa ye wow khana ya i man i long i doh i pran iwa jooh leh da ki kor wa heh, da sdang chna ya ki katni ha India ha i dur ki Tattoo Sensor.
Hadien wa puræ wei thooh yutip wa yillu (Research) ha i bynta ka Epidermal Electronics da chem ya ki jait tiar wa thymme wa ye u sap wow pyndait (Wearable Sensors) kiwa ye u khana yei man i long i doh i pran khamtam i chait i khiah kiwa suk leh wow pynemkaam.
Heiyatoh wa ini, neiliang u Dr. Saurabh Kumar na ka Centre for Nanoscience and Engineering (CeNSE) ha ka Indian Institute of Science, Bangalore, India, uwa da yoh leh ya ka INSPIRE Faculty Fellowship lyngba ka Department of Science & Technology, Govt. of India dang kreh u katni hajrong ki Wearable Sensors kiwa ye u yoh yutip na i doh i pran u bru lyngba ka snieh-doh.
Ha i kreh yong oo yeiwa da pynmih ha ka kot 'ACS Sensors', ka dhab yong oo da pynwandur ko ya ki 'Skin Conformal Tattoo Sensor' iwa stang bha du kamwa 20 μm. Kini ki Tattoo Sensor u booddien (Monitor) ki yei man i long u bru kam ki Pulse Rate, Respiration Rate, Surface Electromyography, UV Rays Exposure, Skin Hydration Level, Glucose Monitoring wa kiwi kiwi.
Kini ki Sensor ye ki wow leh ya kiwa boon ki kaam heiyatoh wa i chait i khiah wei ym pynthut ki ya i long i man (Non-invasive) wei daw bood ki yei chait i khiah u bru (Vital Health Parameters) wei daw kylliang ki ya ki tiar kiwa heh kiwa leh ya ini i jooh i kaam.
Ym du ini tangwa u Dr. Kumar da esikai u leh ya ki khynnah heiyatoh wa ki phang kam ka Research in Biosensor Technologies, Clinical Diagnosis wa kiwi kiwi.