Da ka LIFE yow pynim ya kiwa dooh wa duk: Dr. Mukul Sangma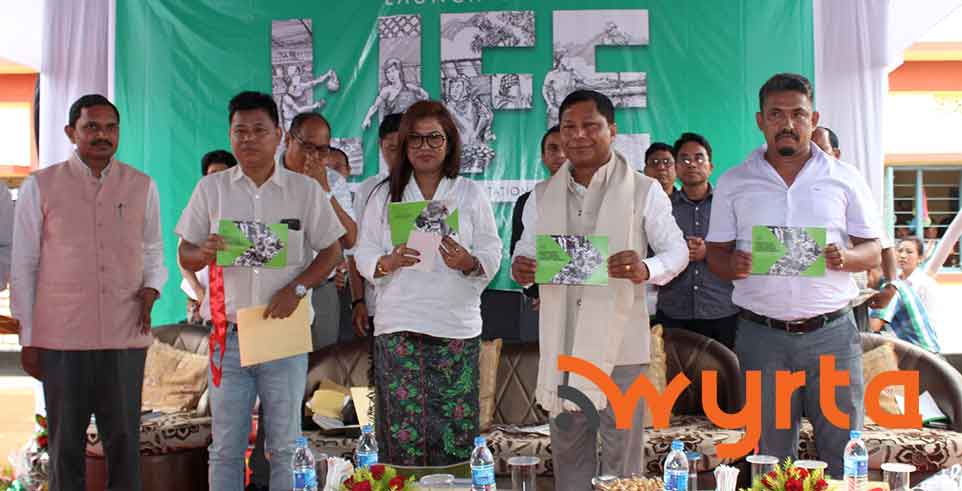 Williamnagar: U Montri Rangbah ka jylla u Dr. Mukul Sangma ynnin ka 11 tarik da wai paidbah u ya ka scheme ka sorkar jylla kawa tip kam ka "Livelihood Intervention and Facilitation of Entrepreneurship" (LIFE) ha ka yalang wa pynman ha Songsak, East Garo Hills.
Hei yatoh wa ka LIFE u Dr. Mukul da ong u wa kani ka scheme toh kawa kdung lang ya waroh ym toh du ya kiwa dooh wa duk kamwa kreh kaam ki scheme sorkar pyrdi. Kani ka LIFE toh ka wow psiah cha waroh kiwa seiñ khih seiñ khan yow yarap ya ki u pynku ya ka mih ka yoh yong ki.
Da kyntu u leh ya ki paidbah wow chna ki ya ka SHG ha ki jar jiar ki thaw wa sah ki yow ye ki u seiñ khih yow pynwiar yei dooh i duk.
Ka LIFE u yarap ko ya ki warep, kiwa ri mrad, kiwa dai syntu wa kiwi lyngba ki tnat sorkar waphær waphær ki wow yarap katkam i khih wa khih ki bru.
I thong wa kongsan dooh ka LIFE toh yow pynchlur ya kiwa rep wa khih cha nongkyndong u neh ki ha chnong yong ki yow pynku kynrong ya ka yoh ka kot ka chnong. Kamtæ da pynchlur u ya ki paidbah wow pteiñ ki yei khih yong ki.
U Commissioner & Secretary Community and Rural Development Department u Sampath Kumar ong u waka LIFE toh u moomer wa emkaam ya ki SHG ka wow pynchlur ya ki u mih ki ha kylleiñ ka jylla. Da ong u wa ha Meghalaya em ko 4 Lak tam kiwa pynkrehkaam ya ka Jobcard yong ki wei lada kawi ka kynthai mih ko wow seiñ ya ka SHG daw em 40,000 ki SHG.
Da ong u leh wa ka LIFE u yarap ko ya ki SHG wow krehkaam ki kam ki Bank wa ye u yarap ya ki dkhot ka seiñ u chim ram ki yow seiñkhih. Ynnin u snem ka sorkar jylla yoh ko T. 500 Klur kam ka nong sngi ka MGNREGA wei lada kiwa em Jobcard pyllang ki 10% naka nong sngi mut wa T. 50 Klur ye ko u lai cha ka e ram ki dkhot ka SHG.
Ka LIFE u man ko ka programme ka Meghalaya State Rural Livelihood Society (MSRLS), ka tnat ka Community and Rural Development Department, Government of Meghalaya kawa pynkrehkaam leh ya ka National Rural Livelihoods Mission (NRLM).
Ka NRLM leh da yarap ko wow kyntu ya ki khih ki khan ki kynthai lyngba ki SHG.