Da kynmoo yaka sngi World No Tobacco Day ha Jowai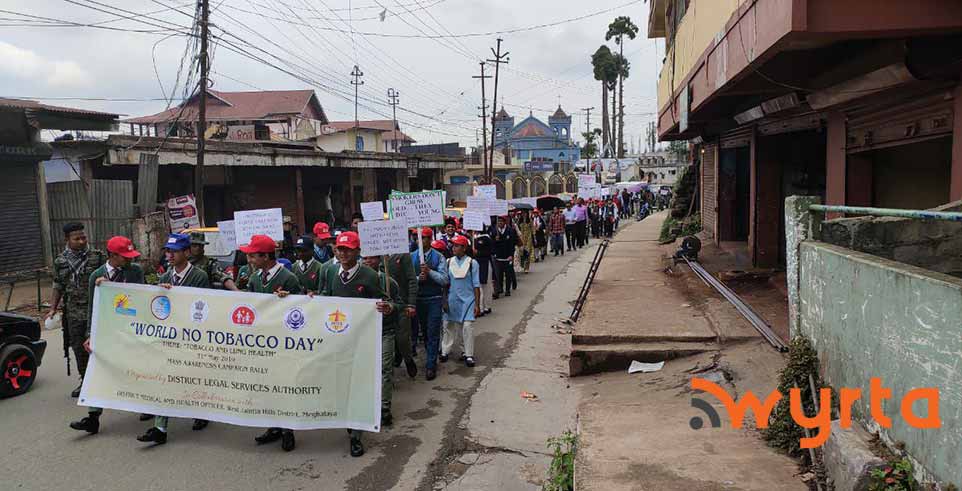 Advertisement
---
Jowai: Yow pynsñiawthooh paidbah yei ktah i dih wa i baam duma, ka District Legal Service Authority, West Jaintia Hills heiwa ya krehlang waka District Medical and Health Officer, West Jaiñtia Hills ynne ka sngi da pynman ki yaka yalang paidbah ha thaw pynyeiñ kari Ummulong, Iawmusiang, Jowai wei pynbood saka lai paidbah nadooh na Iawmusiang cha Ladthadlaboh iwa da chimbynta lang da ki chnat sorkar waphær waphær wa ki khynnah skur.    
Ya i baam smai yow yait na u duma da yahkhmat da u Lakador Syiem, MPS, Superintendent of Police, West Jaintia Hills uwa da kyntu leh ya ki khynnah skur wow yait ki na kiwon jait dih jait baam wa mih na u duma. 
Dr. Arlangki Hinge, Medical Specialist, Jowai Civil Hospital, Ialong, Dr. E.V. B Laloo, District Tuberculosis Officer wa u D.S. Marbaniang, Secretary ka District Legal Service Authority, West Jaintia Hills da klam ki yei ktah u duma yei chait i khiah wa ki kyndon aiñ wa em yow pynduna yei dih duma.
Neiliang ka Thomas Jones Drama Club, Jowai da e ki ya ka wi ka yalehke kawa klam chaphang i ktah na i dih duma.
U E. Kharumnuid, District Session Judge West Jaintia Hills, Dr. K.C Ajar, District Medical and Health Officer, Jowai, leh da wan ki wow embynta ynne ka sngi. 
Ya ka yalang da pynlai da ka Dr. Helen Uriah, Nodal Officer, NPCDCS, WJH. Ya ki ktien pdiang burom da yoh naka Dr. Regina Talang, Nodal Officer, NTCP, WJHs katwa ya ki ktien e khublei da yoh na ka Y. Shylla, dkhot ka District Legal Services Authority, WJH.
Ha kani ka sngi haka yakob Slogan Writing da jop ka St. Mary Mazzareloo Higher Secondary School, Jowai, wa ar ka Seinraij Higher Secondary School wa le ka Jowai Public School.
Advertisement