Da lehwarom ya ka 73rd Army Day ka ri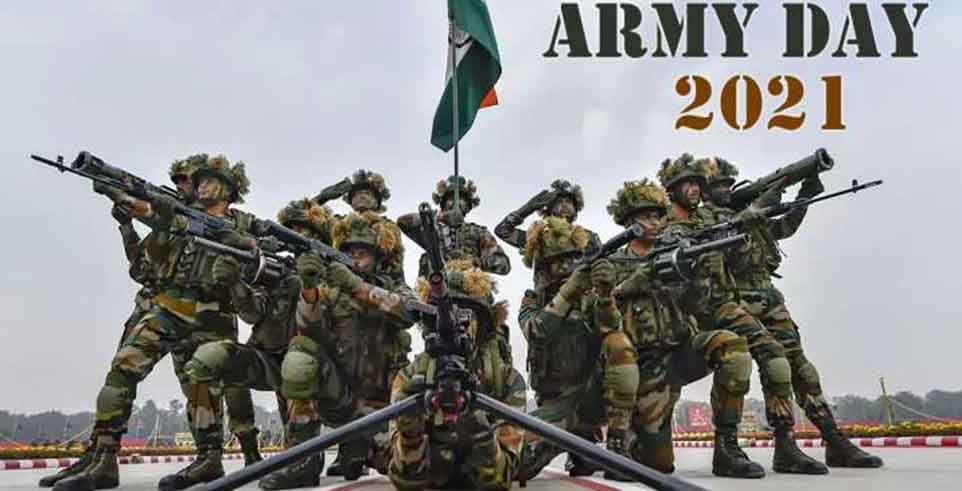 Ka Indian Army ynne da lehwarom ko ya ka Army Day wa 73 kawa man-u-snem ka Indian Army lehwarom ko ya kani ka sngi ha ka 15 Duyatra (January) kam ka 'Army Day' wow kynmoo warom ya u General warim (Field Marshal) KM Carriappa uwa da man u khlieh ka Indian Army hadien u General Sir FRR Bucher uwa man u British Commander-in-Chief ha u snem 1949.
Ya kani ka lehwarom da sdang dei booh syntu ha National War Memorial da u CDS Gen Bipin Rawat wa ki le ngut ki khlieh chipai ka ri. 
U General MM Naravane, Chief of the Army Staff da lai pait ki ya ka Army Day Parade ha Cariappa Parade Ground, Delhi Cantonment wei da ekti u ya ki 15 tylli ki Sena Medal cha ki chipai heiwa 5 tylli toh ya ki chipai wa da khlaad wa 23 tylli ki COAS Unit Citations. 
Ya ka Army Day Parade da yahkhmat da u Maj Gen Alok Kaker, Chief of Staff, Delhi Area heiwa ya ka dhab (Contingent) toh da kiwa yoh ya ka Param Vir Chakra wa Ashok Chakra. 
Hadien ki chipai da bood sa ki tiar yaleh wa kynthup ya ka T-90 Tank BHISHMA, Infantry Combat Vehicle BMP II, BRAHMOS Missile System, PINAKA Multiple Launch Rocket System, SCHILKA Gun System, Bridge Layer Tank, wa kiwi kiwi. 
Ynne ka sngi neiliang u montri rangbah ka jylla, u Conrad Sangma leh da ekhublei u ya ki chipai deiwa ong toh yn burom ya ki chipai wa chlur ka ri. Da ong u wa ymye de u su kylliang yeiwa da leh ki beibynta ka ri.