Da lehwarom ya ka International Disability Day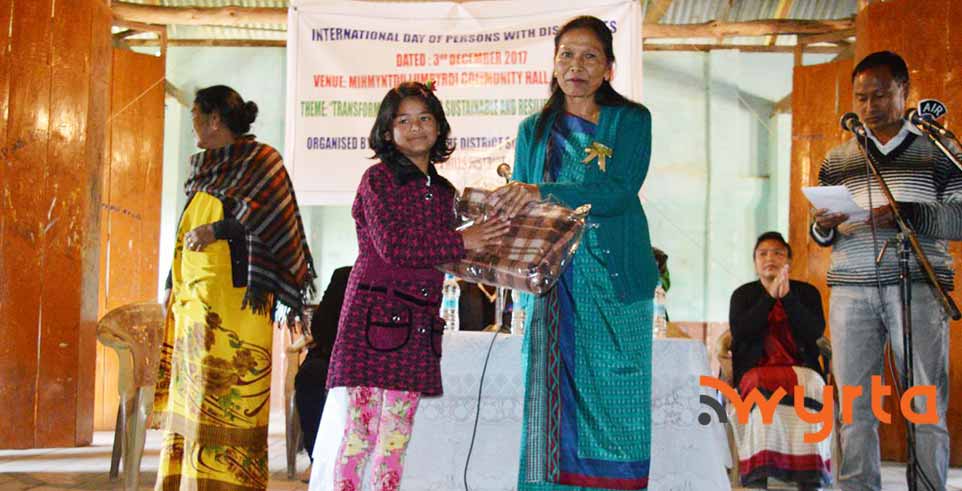 Jowai: Ka yungkrehkaam ka District Social Welfare Officer, Jowai ynne ka sngi da pynemwarom ko ya ka "International Day for Persons with Disability" namo ka sngi neibynta ki bru kiwa em i duna ha i doh i pran wa i bor pyrkhat.
Ya kani ka lehwarom da pynman ha Mihmyntdu Lumpyrdi Community Hall, Jowai hajrong ka phang "Transformation towards sustainable and resilient society for all" heiwa ka M.Pde , District School Education Officer, West Jaiñtia Hills da man ko kam ka kongsan hei emlang u J.Biam, Rangbah Dong Mihmyntdu Lumpyrdi, J.Synnah, DSWO, kiwa kreh ka Social Welfare, ki manbei manpa wa kiwi kiwi.
Ka M. Pde, hei klam da e mynsien ko ya ki manbei manpa wow pynchlur ya ki khon wow yalok wei wow yakyndehke ki wa kiwi ki khynnah wei wow phah skur ki ya ki.
Da ong chooh chooh ko wa u Blai da e sap u ya waroh ha iwi pa iwi i liang kamtæ emkaam bha wow phah skur ya kam kini ki khynnah yow ye ki u tyrchaaiñ mynried hadien, wei wow chim kabu ya ki laad yarap wa e da ka sorkar kam na ka District School Education Office, District Social Welfare Office, ka SSA wa kiwi kiwi.
U Dr. P.M Pyrtuh, ENT Specialist uwa man leh kam u Nodal Officer District Rehabilitation Centre (DRC), Civil Hospital Ialong da ong u wa ka DRC hadooh katni da e ko hadooh 3890 tylli ki Disability Certificate ha East wa West Jaiñtia Hills, wei da kyntu u ya ki manbei manpa wow yah ya ki khon ki cha DRC lada em i duna ha ki, khnang wow sylli wei wow ye u e ya ki Disability Certificate.
Ka J. Synnah, DSWO da e ko ya ki kyntien pdiang burom wei da batai ko leh chaphang ka phang yong uni u snem.
Da pynman leh ya ki lehke wa ha rukom neibynta ki khynnah ynne ka sngi.