Da mang T. 427 klur neibynta ka Geotechnical Textiles Technology yow yada nei oor khyndaw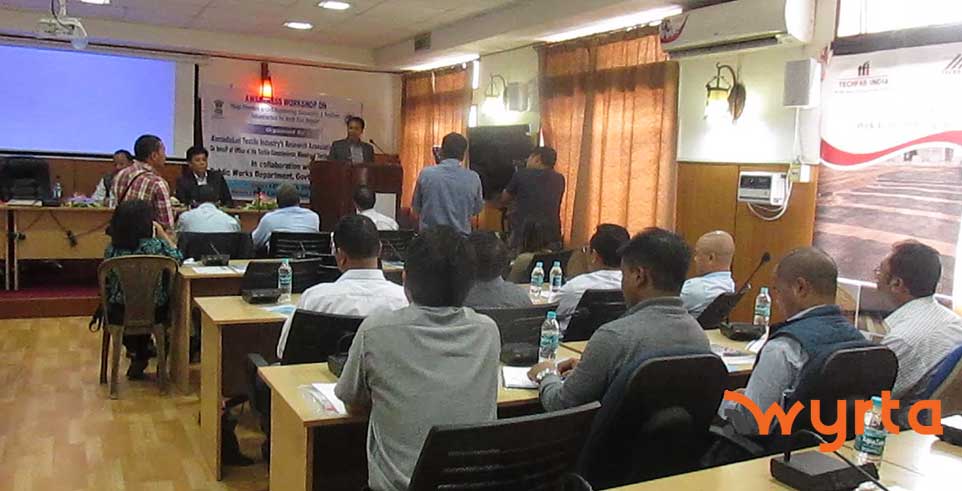 Shillong: I joor u slap kamjooh i oor i khyndaw iwa da wanrah yei sahkut ki kari hapoh ka jylla kamjooh kiwi ki jylla ka thaaiñ mihsngi, ka jylla Meghalaya u krehlang noh ko waka Geotechnical Textiles Technology wow pait ya ini i kaam.
Kani ka Geotechnical Textiles toh ka stat ka juk wa katni kawa pynemkaam ha kylleiñ ka pyrthai ka wow yada ya ki bynta ka rymaw kiwa da tlot neidaw wa joor u slap ka la-ær wa kiwi kiwi ki bor rymaw wei u pynskem biang ki sa chisein deiwa soor ya ki jait tiar ki wow man kam ki sula wow punkup ya ki thaw wa da ye u oor u tooid deiwa pynemkaam pyn da ki mar wa pynmih ka rymaw kamjooh kiwa da chna da u bru.
Heiyatoh wa ini da pynman ya ka Awareness Workshop kawa da e pyrtuid, "Next Frontiers in Civil Engineering: Sustainable and Resilient Infrastructure for North East Region" yow pynsñiawthooh wa kammon wow pynkrehkaam ya ka Geotechnical Textile hapoh ka thaaiñ mihsngi waroh kawi.
Ya kani ka Workshop da pynman da ka Ahmedabad Textile Industry's Research Association (ATIRA) neibynta ka yung krehkaam u Textile Commissioner, Ministry of Textile hei ya krehlang waka PWD ynne ka sngi ha Shillong.
U Secretary ka tnat PWD (R&B), u P.R. Marwein hei klam yong oo da ong u, "Ki jylla ri-loom chem chitom ki khamtam hei oor i khyndaw iwa da wanrah chiboon i sahkut kari wei da emkaam wow thooh laad kammon wow lait na ini deiwa pynemkaam ya ka stat ka juk wa katni."
Da kyrmen u wa deiwa pynemkaam da ka Geotechnical Textile daw pynwiar ko yeini waroh wei da sdang wow leh ya ini ha ka sarok Shillong-Nongstoin wei hapoh ka ri-loom Garo leh dadep sylli ya ki kattu kanti ki bynta ki sarok.
U Director ka ATIRA, u M.N. Subramania da ong u wa kani ka Geotechnical Textile toh kawa miat bha cha ki thaaiñ ri-loom wow pynkhlan ya ka khyndaw neidaw wa ki Geotechnical Textile man ki kiwa khlan bha wei kiwa neh slem.
Da pynemkaam leh ya kani ka jooh ha ki luti rel, ki Tunnel wa kiwi kiwi.
Ya kani ka Scheme toh kawa da sdang ha u snem 2015 ha ka thaaiñ mihsngi wei da mang poisa T. 427 klur neibynta ki 5 snem.