Da pynbna chooh chooh ka sorkar yaki Containment Area ha Shillong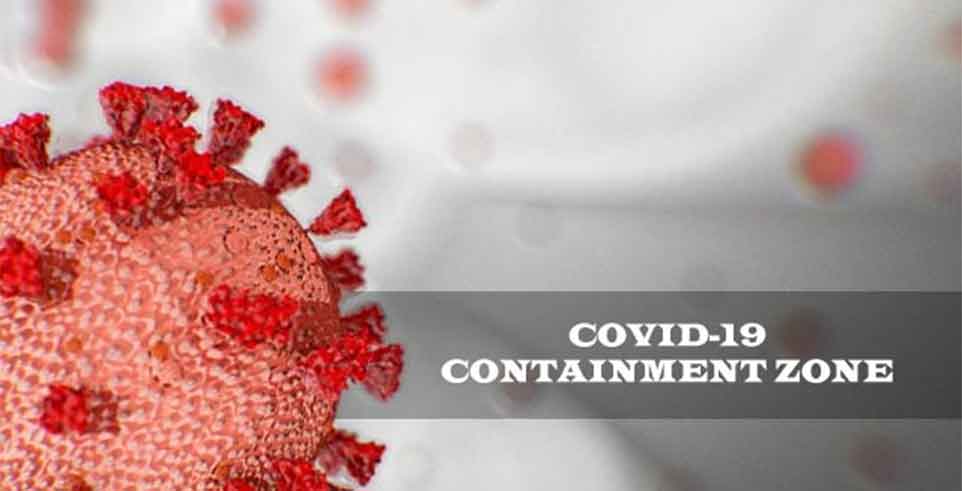 Advertisement
---
Shillong: Ka District Magistrate ka East Khasi Hills da pyntip ko wa neidaw wa em wa yoh COVlD-19 ha yung ka Mainly Warji, Chinapatty, ka Arcdia Kharmujai, Dhanketi, ka Dapda Warjri waka Parkordor Jarian ha Lumbalang, i yung ka Jenny Mary Basaiawmoit, Khliehshnong wa u Balbarico Kharmudai, Kharmalki ha Malki, Shillong, ha De'Arco and Lovely Stores wa em ha Malki Point, ki yung House No. U/B-007, wa em hadien ka Victoria Landmark Guest House, Upper Nongrim Hills, Shillong ki yung u Dr. Teiborlang Rymbai ha Demthring Block-I, Shillong heiwa da em leh ki bru wa em hei maa nei yoh ya uni u khñiang, kamjooh yow leh ya i Contact Tracing, Quarantine, Testing wa kiwi kiwa emkaam yow ye u yada yaki paidbah neipoor u COVID-19.
Ka District Magistrate, East Khasi Hills District da pynmih hukum ko haka 1st August, 2020 yow pynbna ya kiwa da kdaw haneiñ kam ki Containment Area yow khang yei psiah i mih ki bru cha kini ki thaw.
Ka hukum da ong ko leh wa ki bru wa em ha kini ki thaw toh u neh bait ki hapoh yung wei kiwa na baar ym toh wow psiah ki cha kini ki thaw.
Waroh ki dukan u man ki kiwa khang, wei ym chah leh wow pynman ya kiwon kiwon ki yalang paidbah heiwa ya kiwa emkaam daw  pynbiang daki bor District.
Waroh ki yung krehkaam sorkar kamjooh yong ki bru samen u man ki kiwa khang hadooh wa pynmih hukum da kamwi.
Kani ka hukum ym em khang ko ya ki wakreh ha i kaam i chait i khiah, ki wakreh ka Shillong Municipal Board, ki laad pathai khubor, ki Petrol Pump wa kiwa libooh yaki tadong LPG.
Ya kiwa leh pyrchah daw pynchitom katkam ka aiñ Disaster Management Act, 2005 and I.P.C.
Ha kawi tawon ka hukum ka District Magistrate ka East Khasi Hills, da pyndam yei man Containment Area ki thaw wa haap hapoh ka Maxwelton Estate iwa nadooh ka Harrison Bridge neiliang timun ka sarok wa lai cha Riblong hadooh Meghna Marak mar pyrchah yaka Arts and Culture Building, neiliang tidiang ka Captain Clifford Road hadooh J N Bawri House nadooh ka 1st August, 2020.