Da pynkut ya ka Swachhta Pakhwada ha NEIGRIHMS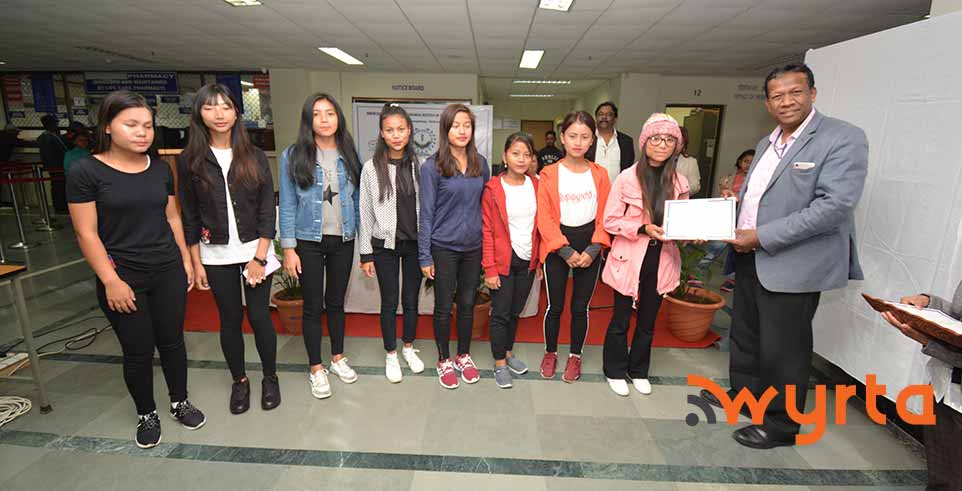 Shillong : Ka Swachhta Pakhwada, kawa da sdang nadooh ka 1 Naitung da kut ko ynne ka sngi ha OPD Foyer, NEIGRIHMS heiwa da saam ya ki khusnaam cha kiwa jop ha ki yakob wa da pynman kam chibynta yong ka Pakhwada.
Ha ki 15 sngi wa da pynman ya kani ka programme da wan wai ya ka da u Director NEIGRIHMS heiwa da e ya ki kyntien kular namo ka Swachhta Pledge wow pynman ya ka soodong sookun kawa khooid wa jngiar.
Da thung leh hadooh 100 tylli ki tre dieñ hei yakrehlang wa ka Mission Green Committee, wa ka State Government Programme Implementation and Monitoring Committee, Government of Meghalaya.
Ha ka 2 tarik uni u bnai da pynkhooid pynmiat ya ki pchem ki dahari yong ki chnat waphær waphær yong kani ka thaw sumaar yeiwa da pynbood ya ka esikai cha ki paidbah wa wan thooh dawai ha ki sngi wa bood.
Da pynman ya ki esikai ha ki thaw puræ wa kynthup ya ka Lady Keane College, Loreto Convent wa Seng Khasi Higher Secondary School.
Ha ka 5 tarik da pynman leh ya ka Swachhta Conference, hajrong ka phang "Hygeia 2019" ha NEIGRIHMS Auditorium, da em ka yakob Skit Play wa i thoh essay wei ha ka 8 tarik da pynman ya i pynkhooid ya ka Pynthorumkhrah. Ya kani ka pynkhooid da yahkhmat da u Medical Superintendent, ka NEIGRIHMS chirup wa ka Dorbar Shnong.
Ynne ka sngi pynkut ya ka programme Swachhta Pakhwada, U Medical Superintendent NEIGRIHMS da ekhublei u ya waroh kiwa embynta ha kani ka programme hadooh kiwa chimbynta ha ki yakob waphær waphær.
Ha ka yakob Skit Competition da jop da ka Social Work Department, Martin Luther Christian University, ha ka Hospital Category da jop da ka Sanitation Department ka NEIGRIHMS.
Ha ka Poster Display Competition, da jop da ka Barbie Kalita na Lady Keane College wa u Robinstar Ryntathiang. Ha ka yakob thoh essay da jop da ka Ophelia Mary Kharmujai wa ka Melakerbha Rumsong.