Da pynlait paidbah yaka Smart Shillong Mobile App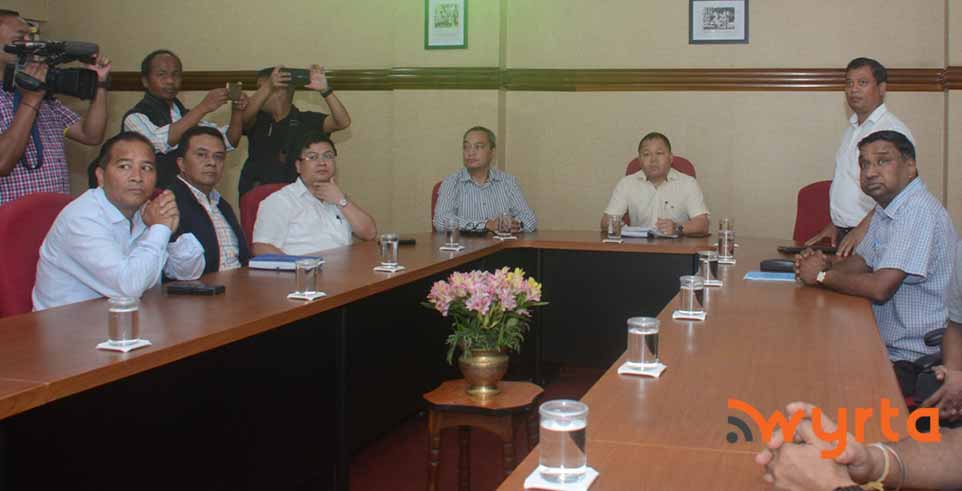 Shillong: Kam chibynta ka lyngkhooh snem ka Digital India Day 2019, u montri ka Urban Affairs Department waka Information Technology & Communications, u Hamletson Dohling da pynlait paidbah u ya ka Smart Shillong Mobile App ha Committee Room, Yojana Bhavan, Shillong.
Ya ka yalang da pynman da ka National Informatics Centre (NIC) dei ya krehlang waka Information Technology Department, Government of Meghalaya. Da emlang leh u Principal Secretary, Urban Affairs Department, u D. P. Wahlang, Commissioner & Secretary, Urban Affairs, u M.R. Synrem, Director, Information and Public Relations, u B. S. Sohliya, Director, State Informatics Center, NIC, u Timothy Dkhar wa ki sahep ka IT Department.
Ya kani ka Smart Shillong Mobile App toh kawa ye u yoh naka Play Store. Lyngba kani ka App, ki paidbah ye ki u yoh yutip chaphang ki thaw lai uiñke suwari, ki phone number wa emkaam u tip manda emkaam yarap, ki phone number wa emkaam yong ka sorkar, ki hukum sorkar, ki khut Tender, i dor ki thaw, u tip chaphang ka Electoral Roll, chaphang ka suiñ bneiñ, GST Registration, u e ujor wa kiwi kiwi de.
Hawa yaroh yaka NIC yei chimkhia ko wow chna ya kani ka App, u Dohling da ong u wa neidaw wa smat ka stat sayan wow lai chakhmat katni, ka sorkar leh ymtoh u chah ieh ko chadien wei wow lai chakhmat heiyatoh waka Information Technology. Da yooluti u leh wa kani ka Mobile App wa da pynlait ynne ka sngi daw pynkupbor ko ya ki paidbah wei daw wanrah ko yei khooid i kreh ki chnat sorkar. Kamtæ da pynchlur u ya ki paidbah wow pynemkaam ya kani ka App yow yoh myntoi ki wei wow e buit ki kammon wow pynmiat pynbha chooh chooh ya kani ka App yow poi ko cha ka thong wa da booh.
U D.P. Wahlang da ong u wa kani ka App toh kawa ye u yarap ya waroh iwa emkaam ki paidbah namo ka "One Stop Shop" yow yoh yutip ki ya waroh ki jait wa yatoh waka sorkar kamjooh ki kaam wa ym toh wa pynlai da ka sorkar. Da pyntip u leh wa kani ka Mobile App daw pynyabi ya ka wa kiwi ki website ki chnat sorkar heiwa ki paidbah leh ye ki wow ujor ya iwa kwah ki.