Da pynman da ka Walkathon ha ka World Diabetes Day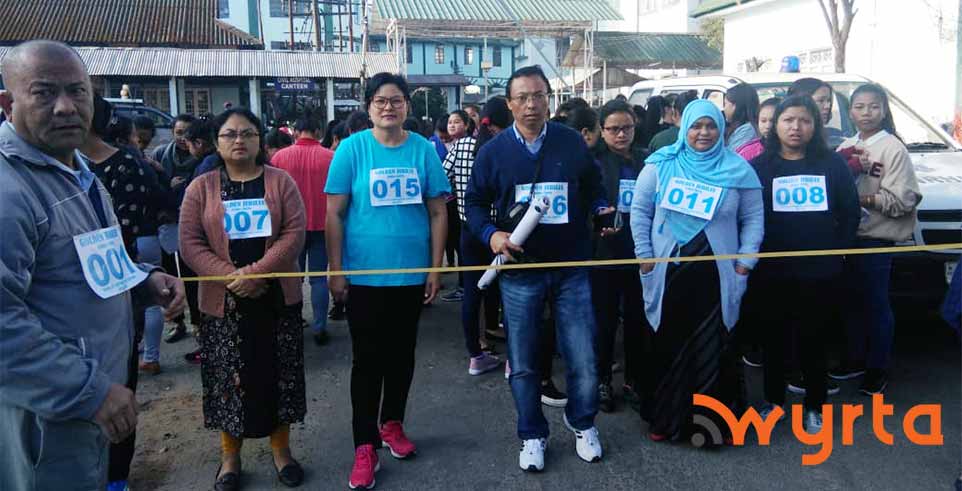 Advertisement
---
Jowai: Ka 14 tarik uni bnai ha waroh kawi ka pyrthai da kynmoo ya ka leh kam ka World Diabetes Day wei ha uni u snem ka Meghalaya Diabetes Association da leh burom ki ya kani ka sngi deiwa pynman ya ka Walkathon deiwa ya krehlang waka Alumni Nurses Assocation ka Civil Hospital Nursing School, Shillong wei da sdang ya ka Walkathon heipor 7:30 i step.
Da em leh u Dr. Lamare, Jt. Director and Civil Surgeon kam u kongsan wei da em leh ka Principal ka Nursing Superintendent, Civil Hospital, kiwa sikai kamjooh kiwa puræ.
Ha ka nohchariñ ka sngi won da em ka yalang wa pynman neibynta ki Nurse ka Nazareth Hospital heiwa da wan chimbynta 60 ngut ki Nurse wei da pynman ya ka hajrong ka phang "The Family and Diabetes" kawa da batai da u Dr. Paul Dkhar, General Secretary ka Meghalaya Diabtes cha kiwa kreh ha ki kaam ka chait ka khiah ha Shillong ha Confrence Hall ka Nazareth Hospital.
Kani ka phang yong uni u snem u bood ya ka 2 snem yow pynche paidbah ya i kjut Diabetes wa kiwi de wa ktah ini i kjut.