Da pynman ya ka Cherry Blossom Festival sa ha Manipur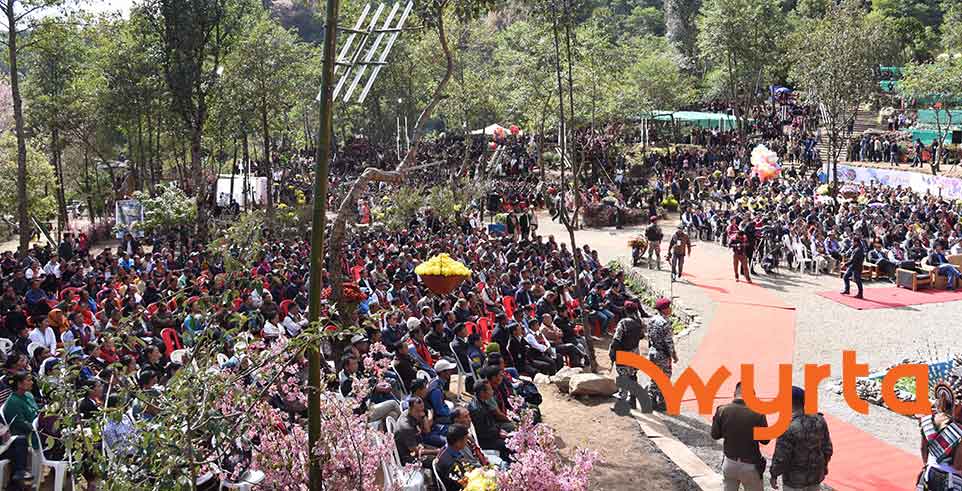 Shillong: Ka chnong Mao, kawa em ha khappood ka jylla Manipur wa ka Nagaland, da tip ya ka kam ka thaw wow psiah cha ka jylla Manipur wei embynta bha ko wow wanrah yei roi i paar hapoh ka jylla Manipur.
Ha kani ka chnong da em ki bru wa chemphang namo ki scientist wa ki khynnah puræ kiwa da kreh kattu la ar snem yow pynneh ya ka rymaw ha kani ka chnong Mao wei da pynman leh ya ka 1st Cherry Blossom Festival yong ka Manipur kawa da e yumut da u Prof. Dinabandhu Sahoo, Director, Institute of Bioresources and Sustainable Development (IBSD), kawa man ka National Institute of Department of Biotechnology, Government of India.
Kani ka 1st Cherry Blossom Festival da sdang ya ka nadooh ka 26-28 tarik uni u bnai ha ka chnong Mao, heiwa da wan embynta da ki palat 20,000 ngut ki bru na kylleiñ ka ri India. Ka chnong Kayinu da pynriam ya ka da ki siej ki chken chirup wa ki syntu na kani ka thaiñ.
Da pynkynmoo u wa ha ka India International Cherry Blossom Festival wa dang dep pynman wot ha Shillong da wan sakhi ya ka da palat 1 lak ngut ki bru kawa da yarap wow pynyu ya i kamai hadooh 200-300%.
Ha kani ka lympung ha Mao u montri rangbah ka Manipur chirup wa ki 7 ngut ki montri yong oo da wan sakhi ki ya kani ka lympung heiwa da pynbna wow e yarap hadooh T. 70 klur wow wanrah yei roi i paar kani ka thaiñ khamtam neibynta ki snem wow wan manda pynman biang ya kani ka lympung.