Da pynman ya ka esikai hajrong ka Disaster Psycho Social Care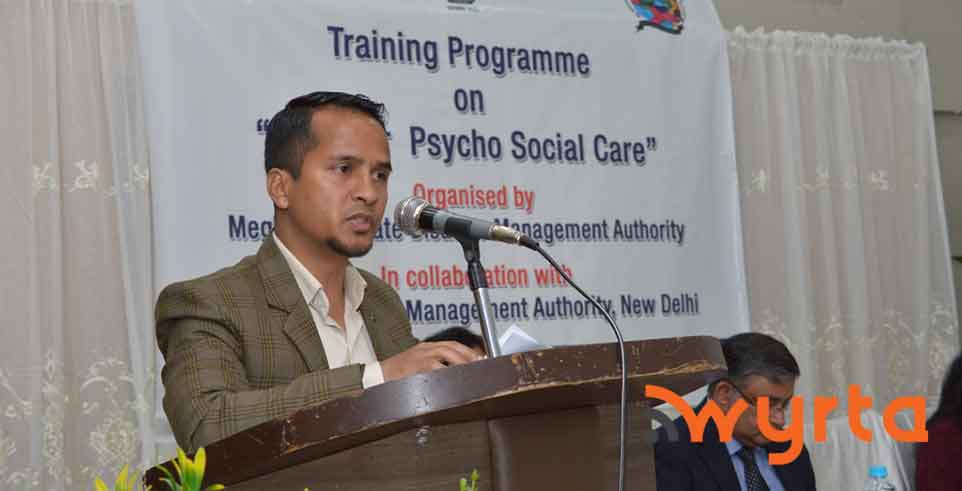 Shillong: U montri ka chnat Disaster Management, u Kyrmen Shylla da ong u wa ym em uwi wot leh uwa sakhi yei bor pynjæd ka rymaw wow lait u na i chah ktah i bor pyrkhat wei yeini da ong u hawa wai ya ka yalang wa tip kam ka Disaster Psycho Social Care, ha Shillong Club, Shillong.
Da ong u wa i chah ktah ha ki bor ka rymaw man i iwa joor nadooh ka imlang sahlang, ka khayi pateiñ wa i bor pyrkhat, wei emkaam ya waroh ki wakreh ha kani ka bynta wow ye yarap wa kiwa chah ktah. 
Da pynrap u wa ki kyndon ka National Disaster Management Authority (NDMA) toh kiwa yatoh wa i emkaam u wanrah ya ki Psycho-Social Support ha ka Disaster Management, wei toh i kaamram ka State Disaster Management Authority (SDMA) wa ka District Disaster Management Authority (DDMA) yong ka ri wow boddien wei wow pynkrehkaam ya ki kyndon ka NDMA.
U M.S. Rao, Additional Chief Secretary, Revenue and Disaster Management Department, Government of Meghalaya da ong u neidaw wa duna ki wakreh ha ka bynta yong ka Psychological Support namo kiwa e yarap ya kiwa chah ktah hei bor pyrkhat, kani ka Workshop u hikai ko ya kiwa kreh sñiawbha (Volunteer) kiwa ye u e yarap cha kiwa chah ktah wow yoh ki yei chait i khiah. 
Da kdaw u leh wa boon ki kaam pynlait im næ e yarap man ki ha i doh i pran, emkaam leh wow pynman salonsar yei rukom e yarap nadooh i pynlait im, i yarap e baam, i thaw sah wei wow chna biang yeiwa da jæd da pra.
Ya kani ka e sikai da pynman da ka Meghalaya State Disaster Management Authority chirup wa ka National Institute of Disaster Management. 
Da wan chimbynta ha kani ka esikai toh ka DDMA, UNDP, Education Department, Health, Social Welfare, Fire and Emergency Services, Civil Defence and Home Guards, MIMHANS, Shillong, Commissioner of Disabilities, MATI, Shillong, Mary Rice School wa Bethany Society.
Ka Maitreyee Mukherjee, Senior Consultant, NDMA da man ko kam ka bru chemphang heiwa da ebatai hajrong ki phang Psychosocial Support for Disaster Management, Psychosocial Support for Vulnerable Groups and Self Care for Psychosocial Support Providers.