Da pynman ya ka esikai neibynta ki 63 ngut ki Scouts wa ki Guides ha Shillong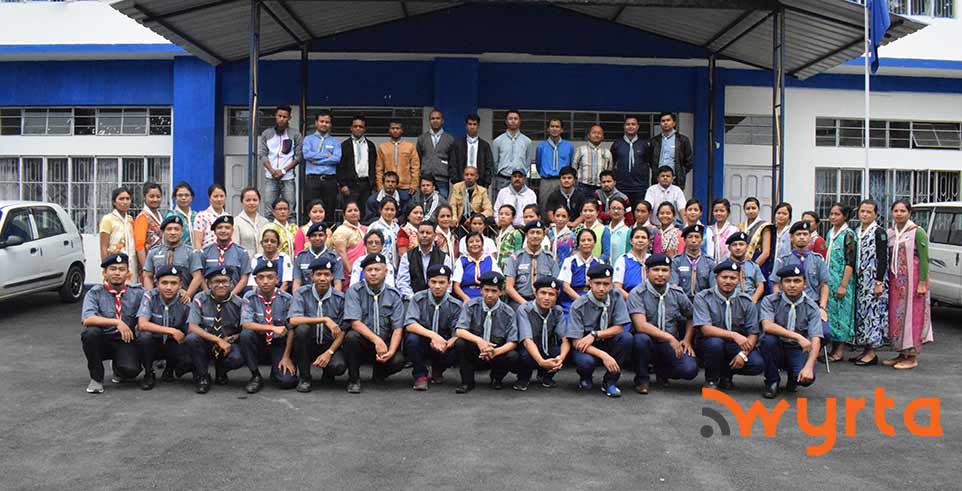 Advertisement
---
Shillong: U Deputy Commissioner uwa man leh kam u President ka Bharat Scout & Guides, East Khasi Hills District u P. S. Dkhar ynnin ka sngi da wan u wow embynta ha ka sngi pynkut ya ka e sikai wa chitayaw wa tip kam ka Combined Basic Course Training 2018 for Scoutmaster and Guide Captain kawa da pynman ha Meghalaya Bharat Scouts and Guides, State Headquarter, Shillong.         
Ya kani ka esikai da pynman da ka Bharat Scouts and Guides, East Khasi Hills District Association kawa da yoh yarap poisa naka sorkar jylla hapoh ka Financial Assistance of the Voluntary Action Fund Scheme lyngba ka yungkrehkaam u Deputy Commissioner, East Khasi Hills District heiwa da wan chimbynta da ki 63 ngut ki Scouts wa ki Guides na ki 39 tylli ki skur napoh East Khasi Hills, West Khasi Hills wa na Ri Bhoi District.
Advertisement
---
U DC ka EKH hei klam yong oo da ong u wa i thmu yong kani ka e sikai toh wow pynchlur ya waroh ki skur wow em ki ya ki Scout wa ki Guide hapoh ka jylla ka wa yarap ya ki khynnah skur liang wanang wei da pynchlur u leh ya ki Scoutmaster waki Guides Captain kiwa em ha kani ka e sikai wow sdang ki ya ki jar jiar ki Unit ha ki skur yong ki.
Da ong u leh wa ki Scouts wa ki Guides yarap bha ki wow pynwandur yei rukom man ki khynnah deiwa e laad ya ki wow maad ki ya kiwa boon jait yow sñiawthooh ki yei emkaam i maya chi lok, u yakrehlang wa kiwi u im hei suk i saiñ hapoh ka imlang sahlang.
Ha kani ka e sikai kiwa embynta da tip ki kammon wow kdoh tylle ha kiwa boon rukom, u yarap ya ki bru wa mynsoo, kammon u im lada wiar cha poh khloo, u pynkop diñ, u chem luti lada wiar cha khloo, u tah dieñ wa kiwi kiwi de.