Da pynman ya ka Mock Drill ha Tia Chaphrang Higher Secondary School, Sohkymphor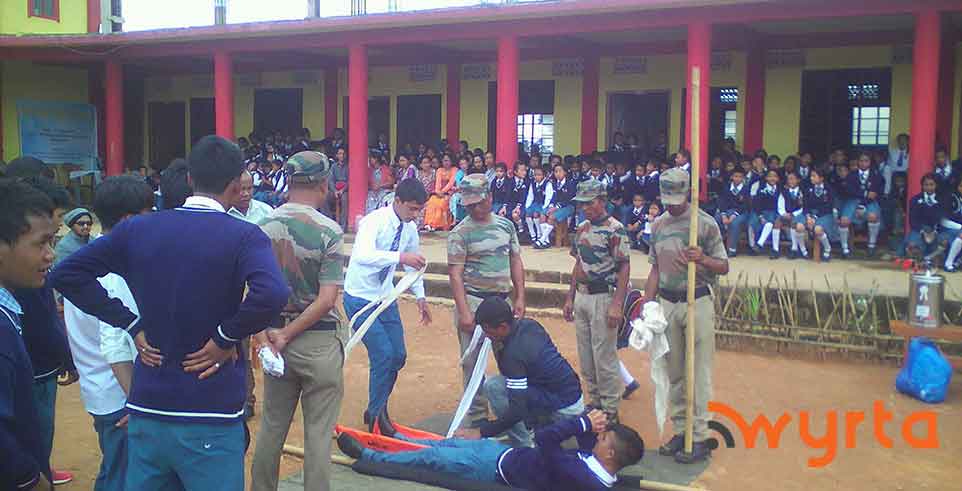 Sohkymphor: Ka yungkrehkaam yong u District Disaster Management Officer, East Jaiñtia Hills District, Khliehriat, da pynman ki ya ka e sikai waka Mock Drill wa chi sngi ha ka 10 tarik uni u bnai, 2018 ha Tia Chaphrang Higher Secondary School, Sohkymphor.
Ya kani ka Mock Drill da pynman dei thmu wow wanrah yei sñiawthooh wei kamjooh wow e sikai ya ki khynnah skur wa kiwa sikai yong ka Tia Chaphrang, hajrong wa kammon u man kiwa da pynkhreh manda pynyoo bor ka rymaw kam hawa khih khmi.
Kani ka program da man ko kam chibynta na ki laad yada yong ka tnat Disaster Management wei lyngba kani da yooluti wa kiwa sikai wa ki khynnah skur u tip ki wow chim ki laad wow yada wei wow leh lada jia iwon iwon i pynjæd tympra ka rymaw yow pynduna ya i chitom yong ki bru.
Ha chwa wow pynman ya ka Mock Drill, da yoh leh ya i e sikai hajrong ka Search and Rescue Operation da ka State Home Guards and Civil Defense wa ka Fire and Emergency Service yong ka Meghalaya, u e sumaar First Aid na ka Health Department lyngba ka Wapung Pamra PHC wei neibynta ki Police na u OC yong ka Ladrymbai Police Beat House.
U District Disaster Management Officer da pynsñiaw u leh wa ha kani hi ka jooh ka esikai wa ka Mock Drill, daw pynman ha kiwi ki skur wa ya kiwa chong chnong yong ka Sohkymphor wa ki chnong wa marjan.
Ha i klam e khublei, neiliang yong ka skur, ka Waphasan Bareh, Principal, ka da e ko yaroh ko ya ka District Disaster Management Authority wa da chim khia ko da kani e sikai wei da ong ko leh wa ki khynnah skur wa kiwa sikai da yoh ki chiboon i sñiawthooh ha waroh ki bynta, khnang wow ye ki u yada lada jia wa wan ki pynjæd tympra ki bor ka rymaw.
Ha kani ka e sikai da emlang u Kmen Lapasam, Waheh Chnong ka Sohkymphor Mission, u Protasius Suiam wa u Reachingson Siangshai, ki dkhot yong ka Tia Chaphrang Educational Management Society.