Da pynman ya ka Seminar ki hajrong ki aiñ wow yada ya ki khynnah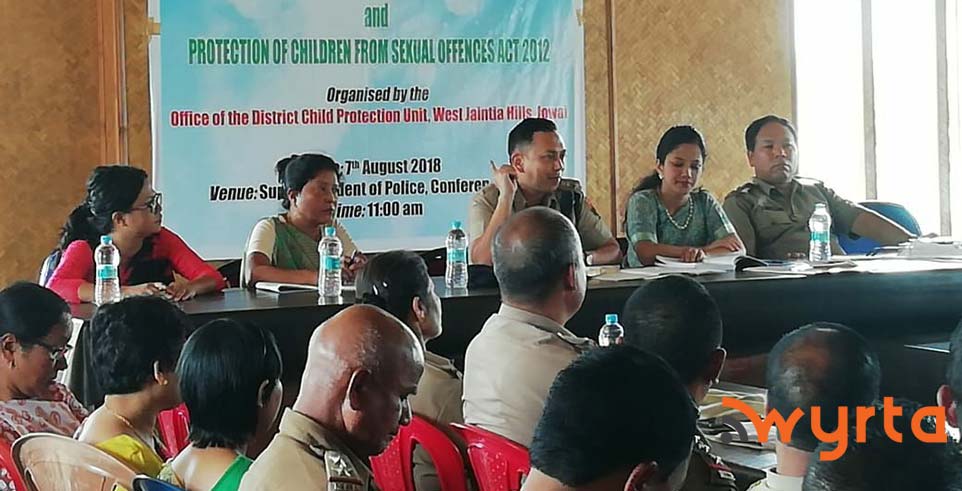 Jowai: Ha kani ka 7 tarik ka yungkrehkaam ka West Jaiñtia Hills District Police hei ya krehlang waka District Child Protection Unit (DCPU), West Jaiñtia Hills, Jowai da pynman Seminar ki hajrong ka aiñ Juvenile Justice (Care and Protection of Children) Act 2015 waka Protection of Children from Sexual Offences (POCSO) Act 2012 ha Conference Hall u Superintendent of Police, Jowai.
Ha kani ka Seminar da wan chimbynta da ki dkhot ka Child Welfare Committee, Child Line, Medical Superintendent Civil Hospital, Ialong, ki heh pulit wa kiwa mihkhmat ki Shelter Home.
Ha kani ka Seminar da klam chaphang kiwa boon ki kaam wa man pyrchah ya ki khynnah nadooh ki kaam slaitbor, i chah rahbor wa kiwi kiwi de.
Da chim ya ka rai wa ki pulit emkaam ki u tip ya ki thaw wa man kiwa maa ya ki khynnah kiwa emkaam i yada kiwa ye u chah slaitbor wow chah rahbor.
U krehlang wa waroh kiwa ye u yarap wow yaleh pyrchah ya kini ki kaam kam ki waheh chnong yow ye ki u chimkhia u pynbiang ya ki Birth Certificate.
Yow bood ya waroh ki kyndon ka aiñ heiyatoh wa ki khynnah wa chah slaitbor.
Wow pyndep ya ki kaam wow pynman ya ki takit hapoh ar bnai.