Da pynman ya ka yachemlang kiwa e dawai kynbat ha Thadlaskeiñ Block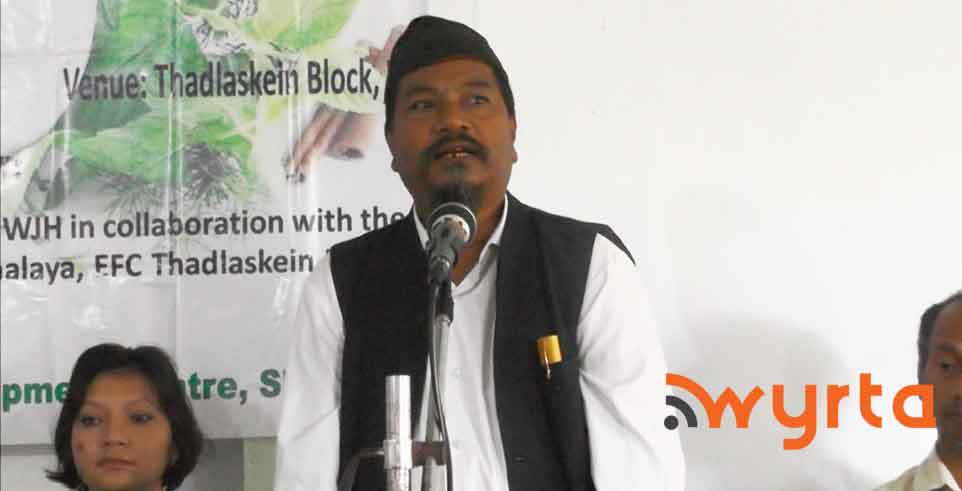 Jowai: Kiwa e dawai kynbat kiwa tip leh kam ki Traditional Healers na Thadlaskein Block, West Jaiñtia Hills hei yakrehlang wa ka yung krehkaam ka Block Development Officer, Thadlaskein, ka State Council of Science, Technology and Environment (SCSTE) Meghalaya, ka EFC Thadlaskein Block, CoRP Shillong wa ka Grass Root Shillong da pynman ki ya ka esikai wa chi sngi kawa tip leh kam ka One Day Block Level Awareness Programme cum Health Camp on Traditional Healing System ha Thadlaskein Block.
Ha kani ka sngi da em ka BDO ka Thadlaskeiñ Block ka B. Blah, wa kamwa 35 ngut kiwa e dawai kynbat.
Ka Blah, da ong ko wa ka thong yong kani ka sngi toh wow wanrah ya kiwa e dawai kynbat chithaw donhi heiwa daw ye ki u pachat yeiwa chem ki, i rukom sumaar wakjut ki wa kiwi kiwi.
Da ong ko leh wa waroh tip i wa yei sumaar bru da leh na ki warim wei khamtam ki thaw palatchnong chaniah bha ki ya ki dawai kynbat wei i rukom e dawai, kamtæ kani ka sngi man ko leh ka sngi wow yachemlang yong kiwa e dawai kynbat.
Uwa mihkhmat yong ka Grassroot NGO da ong u wa ka thong yong kani ka Programme toh wow wanrah hei thoh i taar ya ki dawai kynbat wa pynemkaam kiwa e dawai.
Ha kani ka sngi da emlang leh u Dr. C. Pakyntien.