Da pynman ya ka yalang wow pyrkhat ya ki laad wow pyndoohjait ya i dih drugs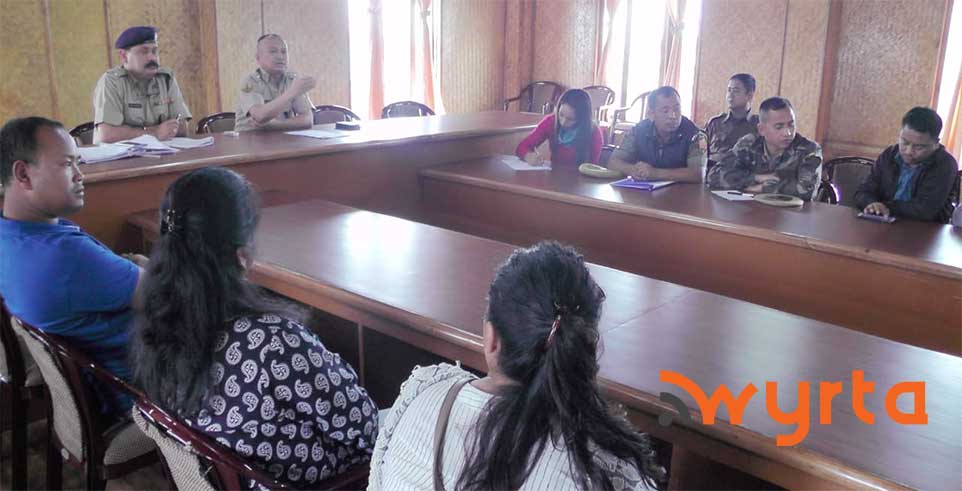 Advertisement
---
Jowai: Hajrong ka thong wa kammon u pyndoohjait yei roi u drugs ha ka district iwa da ku neipor cheipor, ka yung krehkaam u Superintendent of Police, West Jaiñtia Hills District ynne ka sngi 4 tarik da pynman ko ya ka yalang wow pachat yumut wa kiwa pathai khubor ha Conference Hall u ka yung krehkaam u SP ha Jowai.
Ya kani ka yalang da pynman hei yatoh wa ka PIL wada ujor da ka Meena Kharkongor pyrchah ya ka sorkar jylla hajrong i kaam dih drugs.
Ha kani ka yalang nalor kiwa pathai khubor da emlang u SP ka West Jaiñtia Hills District u Lakador Syiem, u Additional SP u B. Chetri, u M.J. Marngar u Deputy Superintendent of Police, u A. Wahlang SI In-charge Anti-Narcotic Cell West Jaiñtia wa kiwi.
Ya kam kani ka yalang neiliang ka yungkrehkaam u SP da jooh pynman ko leh wa ki waheh chnong naki chong waphær waphær ka District, ki NGO khang wa i angnood yow man iwa jop neibynta i bha i miat ka chnong ka thaw waka imlang sahlang hi waroh kawi.
Neiliang u SP West Jaiñtia U Lakador Syiem da pyntip u wa katkam ki Case wa dadep Register hei yatoh wa ka Narcotic Drugs & Psychotropic Substance Act, 1995 wa kynthup nadooh ki drugs Heroin, ki bhang wa kiwi hapoh ka jylla nadooh u snem 2014 hadooh 2017 da em kamwa 144 tylli.
Ha West Jaiñtia Hills District won hapoh ki san snem itæ nadooh u snem 2015 hadooh u 2019 da em kamwa 18 tylli ki Case wa dadep register hapoh ka Narcotic Drugs & Psychotropic Substance Act,1995.
Ha kani ka yalang, neiliang ki pulit kamjooh kiwa pathai khubor da ya e buit kylliang ki hei yatoh wa ki laad ki luti wow lai chakhmat khang yow ye u pyndoohjait, neibhah katni boon ki khynnah hei rta wa dang khian da ngop ki hei dih drugs iwa man i kjut wa khroo wa riñ sti ya ka ri wa ka jaitbru.