Da saam ya ki tyndur sa-ang dakharang cha ki 26 ngut ka WJH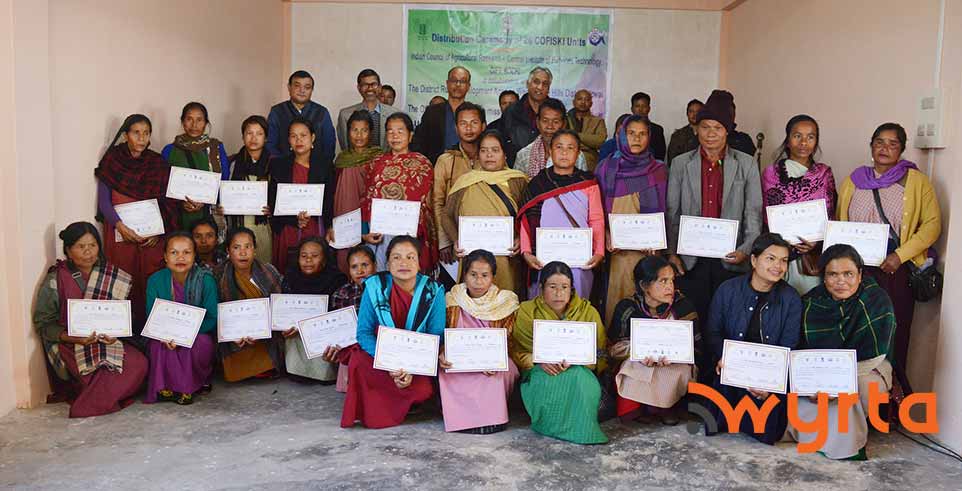 Jowai: U montri ka chnat puræ puthi u Lahkmen Rymbui ynne ka sngi da saam u ya ki Certificate wa ki COFISKI Smoke Fish Kilns namo ki tyndur sa-ang dakharang cha ki 26 ngut kiwa sa-ang dakharang na ka chnong Thangbuli, Umladkhur, Shangpung, Mukhla, Khliehtyrshi (Rait turiem) wa Tyrshang ha ka yalang wa pynman ha BNRGSK Hall, Block Development Office, Amlarem hei emlang u Deputy Commissioner ka WJH u Garod LSN Dykes, IAS, u Project Director DRDA kajooh u Additional Deputy Commissioner u DM Wallang, u Principal Scientist & HOD MFB Division, Kochi u Dr. M.M Prasad, ka BDO ka Amlarem C&RD Block ka J.U. Kharpuri wa ki sahep wa boon ki chnat sorkar.
Ya kani ka yalang da pynman da ka Indian Council of Agriculture Research Central Institute of Fisheries Technology, CIFT, Kochi deiwa ya krehlang wa ka District Rural Development Agency, West Jaiñtia Hills, ka yung krehkaam u Deputy Commissioner, Jowai hapoh ka Project ka Coal India Ltd CSR Scheme.
U Lahkmen hei klam yong oo da ong u wa i rukom sa-ang dakharang toh kawa da hiar pateiñ na kawi ka juk cha kawi ka juk wei kiwa boon hi kiwa chong chnong ka Umlaladkhur wa Thangbuli da im ja ki na ini wei da kmen u wow yoo ya i sikai wa da yoh wa i kyrchaan naka DRDA hapoh i yahkhmat u DM Wallang, Project Director wa u Dr. MM Prasad yow pynku chooh chooh ya kani ka khih deiwa chna sa ki achar dakha, u papor dakha, i syrwa dakha wa kiwi kiwi.
Chooh chooh da ong u wa kiwa em ha kani ka khih lyngba i kreh chitom yong ki wei wow pdiang leh ya i stat wa thymme daw pynku ko yei yoh nong ki. Da e buit u leh ya ki 40 tylli ki manyung ka Umladkhur wow ya krehlang ki wa kiwa dai Wholesaler na Andhra Pradesh namo na Shillong yow pynlai yaaw ya ki mar yong ki yow yoh myntoi ki neibhah wa ka poisa wa pyllang kawa ym em hap u pynlut toh ka nong.
Da pynchlur u leh wa ha ki por wa lait ki toh u chim kabu ki leh ya ka Jackfruit Mission kawa dang sdang ka sorkar jylla.
Da pyntip u leh wa hapoh ka Border Development Area Development Scheme 10% da booh chwa yow yarap pynbniah yei sap kiwa da em chwa ki bru wei da kyntu u leh ya u Project Director ka DRDA wow chim kabu ya ini yow yoh yei sikai wa kammon u pynneh pynsah ya ki mar baam wa dai wei wa kammon u pynlai yaaw ya ki.
Neiliang u Dr. M.M. Prasad da ong u wa ka roi ka paar wan ko manda em i yakrehlang neibhah ya ini waroh da ye u leh deiwa chimkhia u DM Wallang. Da ong u leh waka stat sayan yow ye ko u yarap ya ki bru toh u man ko kawa yoh nong, kawa suk ki bru u pynemkaam yow man ko kawa jop wei kawa ye leh u wanrah yei chait i khiah.
Neiliang u DM Wallang da pyntip u wa ka DRDA da yaleh ko katwa ye yow pynku ya kani ka khih wei da dep pynman ya kiwa boon ki e sikai wei da e sikai leh kammon wow chet ki baam ki wow tei yei doh i pran khamtam ya ki kynthai wa dang khai khyllood yow man ki leh kiwa biang snam.