Da sdang ya ka Aroma Mission yow rep ya ki jhoor wa sma bih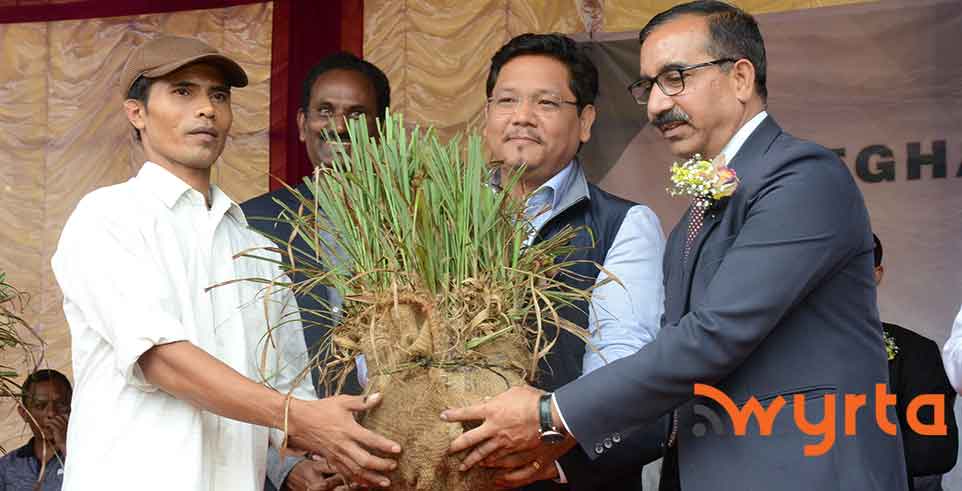 Advertisement
---
Advertisement
---
Shillong: U montri rangbah ka jylla, u Conrad K Sangma, ynne da sdang u ya ka Aroma Mission wei da wai u leh ya ka Processing Unit of Essential Oil ha Byrwa, Ri-Bhoi District.
Hawa e yei klam u Conrad K Sangma da ong u wa ka Aroma Mission toh kawi na ki kaam wa wanrah ka sorkar ka wow pynemdor ya ki mar napoh ka jylla. Da ong u wa ka khayi pateiñ man ko kawa emkaam tam ha ka jylla wa ka ri deiwa pynrap wa ka rep ka riang wa kiwi kiwi kiwa yatoh wa ki kaam rep man ki kiwa emkaam bha wei ka sorkar daw yaleh ko wow pynjanai wei wow pynmiat ya ki khnang wow yoh myntoi ki warep.
Advertisement
---
Advertisement
---
Da pyntip u wa kiwi ki mar rep kam ki saroo wa ka slatyrpaad u kynthup noh ya ki hapoh ka Agro Forestry Products khnang wow suk ki warep u pynlai yaaw ya ki, da ong u leh wa ha ka jylla da pynemkaam ya ki sla wa ki syntu wa bih nadooh ki por warim khamtam wow sumaar wei wow chna dawai kynbat. Da kyntu u leh wow ngam yillu wow puræ ya ki mar rep kam ki dawai kynbat.
Chwa ini u Additional Chief Secretary and Agriculture Production Commissioner, Meghalaya, KN Kumar da pyntip u wa kani ka Mission daw kreh ko neibynta ki mar rep kiwa bih wa ki dawai kynbat hapoh ka jylla. Da ong u leh wa ka jylla em ko chiboon ki thaw rep wei emkaam wow pynchlur hi eh ya ki warep. Da pynrap chooh chooh u wa u Lemon Grass namo u phlang wa bih sohjaw wa kiwi kiwi ki mar wow rep ha i thaw wa heh kamwa 50 Acre heiwa waroh ki District daw yoh ki 5 Hectare khnang wow poi ha ka thong kawa 1000 Hectare wei ini chong i ha i ka-it ki warep ha ki san snem wa daw wan. Da ong u leh wa kani ka Mission toh kawa T. 18 klur.
U Conrad da pynlait u leh ya ka Aroma Mission Document deiwa wai leh ya ka Distillation Unit.
Kiwi kiwa da em ha kani ka sngi toh u Director, CSIR- CIMAP, u Abdul Samat, u P. Sampat Kumar, CEO, MBDA wa ka Deputy Commissioner, Ri Bhoi, ka R. Kurbah.
Advertisement