Daw sdang biang ka Tiger Five wa 7 yong ka Chilliangraij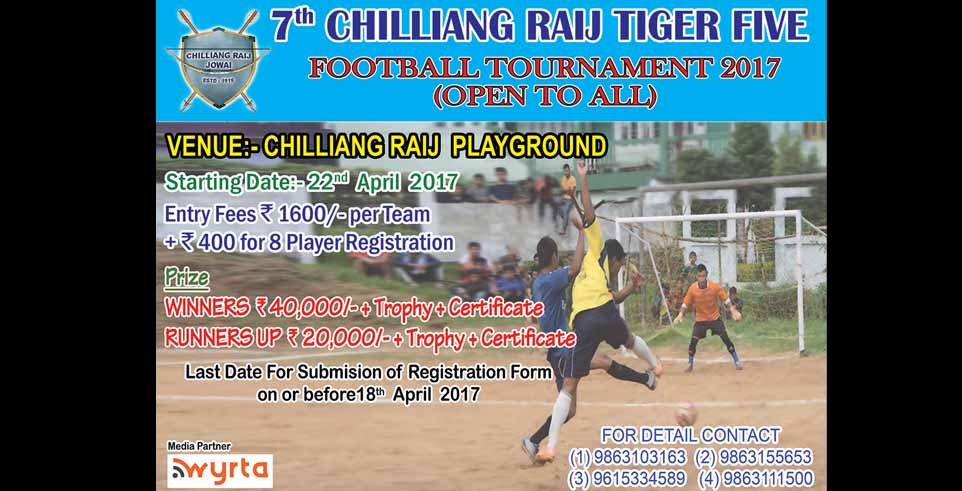 Advertisement
---
Advertisement
---
Jowai : Ka Chilliangraij Sports and Youth Affairs ha u ni u snem daw pynman biang ko ya ka 7th Tiger Five Football Tournament 2017, ka wow sdang nadooh ka 22 Naitung (April) 2017 hei por 2:00 waje i sngi ha madan yalehke yong ka.
Kamtæ neiliang ka Committee kyrpad ko ya waroh ki lok ki jor, ki dong, ki chnong wapher wapher wa ki bru samen wow sñiawbha u yachim bynta ha kani ka lympung khnang yow man ko ka wa lai ryntih.
Ya kani ka lympung da pynman kam chi bynta wow yarap namo u yohlad ki khynroo u pynyoo jar jiar ka sap yong ki hei yalehke football. Kani ka jait yalehke toh u em du san ngut donhi hapoh madan katwa le ngut won ki wow chong kam ki substitute ki wow ye u kylliang heiwon iwon i por. Ka yalehke u man ko 30 minit chiliang.
Ka bai psiah u man ko T. 1600 chi dhab (team). Katwa ka bai Registration neibynta ki 8 ngut ki players toh T. 400 iwa mut waroh man ko T. 2000.
Ya ki kyndon næ Rules and Regulation yong kani ka tournament daw saam cha waroh ki dhab wa yachim bynta. Ka dro ties u man ko ha ka 18 Naitung heipor 7:30 i miet ha Office krehkam yong ka Sports & Youth Affairs.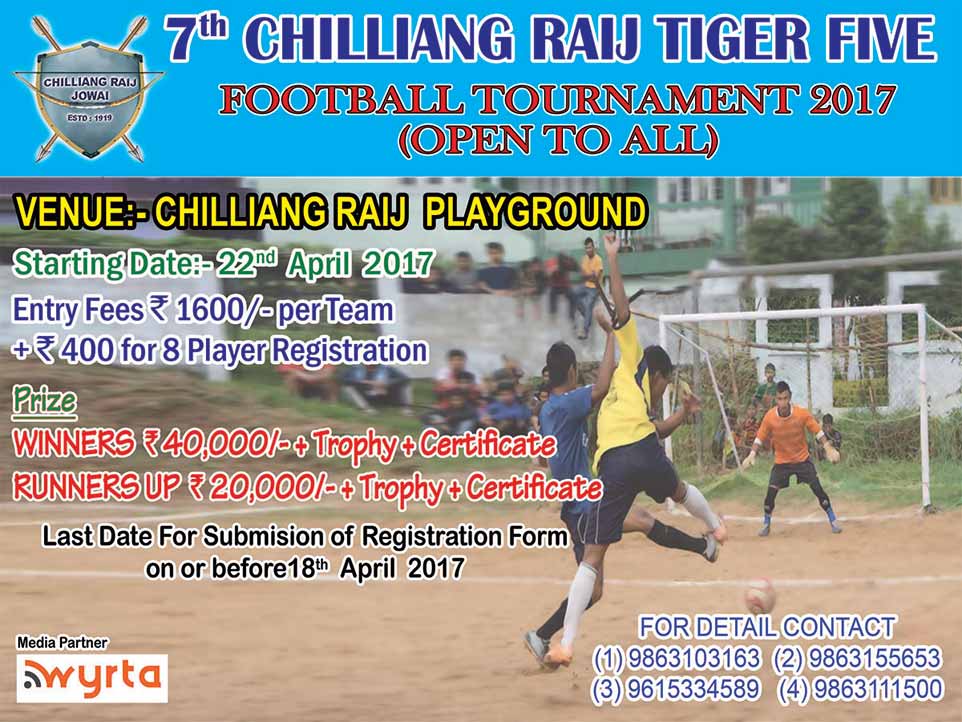 Also Read: Daka Tie-Breaker kut ka Final yongka Tiger Five 2016