Dawa ka seiñ kiwa mylla wow pynbna chuti paidbah ya ka 1 Naisan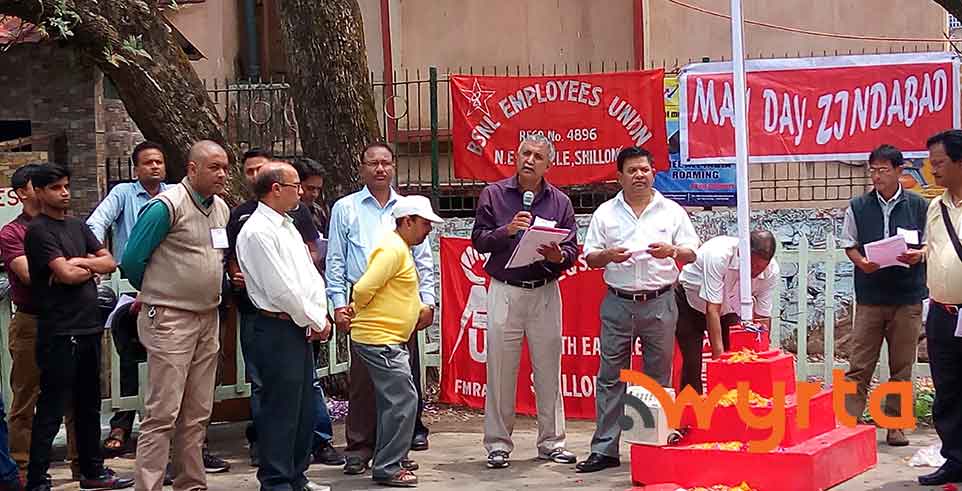 Shillong: Chirup wa ka pyrthai waroh kawi kiwa kreh tulop kiwa kreh mylla ha ki kaam wa boonjait hapoh ka lama ka Meghalaya Joint Council of Trade Union & Association (MJCTU&A), da pynman ki ya ka lehkmen kawa 128 ynne ka sngi ha Shillong kawa tip leh kam ka May Day.
Ha kani ka sngi, da dawa wa ka sorkar jylla toh u pynbna ko ya ka 1 Naisan kam ka chuti kam wow warom ya ka sngi kiwa mylla.
Ha i jooh i por da dawa wa ka sorkar toh u kreh chitom ko wow pynchitom ya kiwa leh ya ki kaam pyrchah ya ki khynnah kynthai ha kani ka jylla wei kamjooh leh da kyrchaan ki yei dawa kiwa sikai skur Lower Primary wa Upper Primary skur wow yoh ya ka tulop kawa biang yow yoh ki u im deiwa emburom.
Yow pynku tulop noh ya kiwa kreh hapoh ki tnat waphær waphær wa kiwa mylla da dawa na ka sorkar jylla wa ki bor wa toh u pait ya ini yow pynkrehkaam noh ya ka 7th CPC wa kiwi.
Da dawa leh wow booh ya ka thaw wa ye ki paidbah wow pynman ya ka yakhih ha i bynta ka sor Shillong kamwa da leh ha kiwi ki bynta ka ri.
Ya ini i dawa da pynsñiaw da kiwa kitkaam ka Meghalaya Joint Council of Trade Union & Association (MJCTU&A) wa kynthup ya u President M.N. Bhattacharjee wa u General Secretary u J.L. Das ha ka yalang wa pynman ynne ka sngi ha ka thaw pynyeiñ kari ka Additional Secretariat, Shillong heiwa da wan chim bynta da kiwa kreh ki seiñ waphær waphær kiwa kreh lang wa ka Union.