Dawa pynku kyrdan kiwa sikai Adhoc cha ka Deficit deiwa su katkam i kaam wa kreh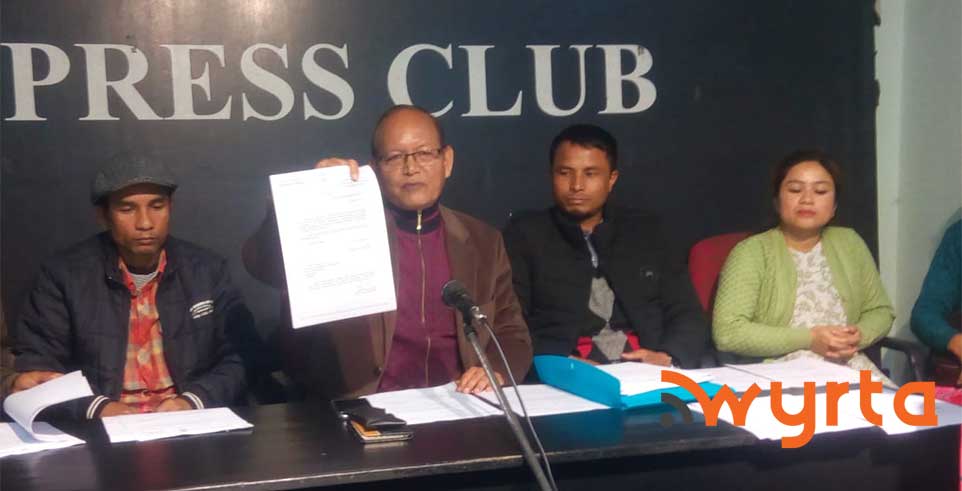 Advertisement
---
Advertisement
---
Advertisement
---
Shillong: Kiwa sikai skur Adhoc ha ka jylla kiwa em hapoh ka chatri yong ka Meghalaya Upper Primary School Teachers Association (MUPSTA), ynne ka sngi da dawa ki na ka sorkar jylla wow pynku noh ya ki cha ka kyrdan Deficit ya waroh ki skur Adhoc kiwa em hapoh ka jylla.
Hawa yaklam wa ki laad pathai khubor, u President ka MUPSTA, u Kenneth Shadap da pyntip u wa da thoh cha u montri ka Ministry of Social Justice and Empowerment (MoSJE), u Ramdas  Athawale ha ka 7 tarik, u Naichiphaw (Oct) 2017 heiyatoh wow pynku kyrdan ya ki wei wow su wa yatoh katkam i kaam wa kreh ki.
Advertisement
---
Da pyntip u leh wa u Under Secretary ka sorkar India u Sushil Bhushan da thoh u cha u Secretary ka chnat Education ka sorkar Meghalaya, u WR Lyngdoh ha ka 29 tarik u bnai wa da dep yow pyntip wa da phah ya ki ar tylli ki chithi na u montri khynnah ka chnat Social Justice and Empowerment, u Ramdas Athawale, wa da toh u wow pynku ya ki Adhoc School cha ka kyrdan Deficit School wei kamjooh hajrong ka phang 'i jooh i su ya ka jooh ka kaam.'
Katkam wa pyntip u Kenneth, i pynku ya ka kyrdan Deficit wa khaddooh ya ki skur Adhoc ha ka jylla da leh hapyrdi u snem 1980-1990, kawa mut la 28 snem kattu ym em ka pynku kyrdan ya ki skur ha ka jylla.
Da pyntip u wa ki skur Adhoc kiwa em ha ka jylla Meghalaya waroh kawi em ki 1875 tylli wa kynthup nadooh ki Lower Primary, Upper Primary, Secondary wa Higher Secondary wei em 7082 ngut kiwa sikai.
"Hadooh katni em du 844 tylli ki skur Adhoc Upper Primary, 54 tylli ki Deficit Pattern, 82 tylli ki Deficit System wa 56 tylli ki skur sorkar," da ong u.
Uwa yahkhmat kiwa sikai da pyntip u leh wa i su tulop wa man u bnai cha kiwa sikai skur Adchoc man ko ha ki Lower Primary T.12 hajar, Upper Primary T.16 hajar, Secondary T.20 hajar wa Higher Secondary T.24 hajar. Katwa i su cha kiwa sikai Deficit won man ko T.50-60 hajar chibnai ya kiwa sikai wa da rim ha ki Lower Primary da poi ko palat T.60 hajar ha ki Upper Primary wa ya kiwa sikai kiwa dang psiah i su da poi ko T.45-50 hajar ha ka chibnai.
"Neiliang u Ramdas Athawale da thoh u cha u monntri ka Ministry of Human Resource Development (MHRD) u Prakash Javekar wow tuklar lang hajrong ini i dawa kiwa sikai skur ka jylla Meghalaya kiwa em hapoh ka chatri yong ka Joint Action Committee of All Teachers Association of Meghalaya (JACATAM)," da pyntip u Kenneth.
Advertisement
Advertisement