Dei pynsñiawthooh hajrong ki kjut wym yabi, da pynemwarom ya ka World Health Day ha Jowai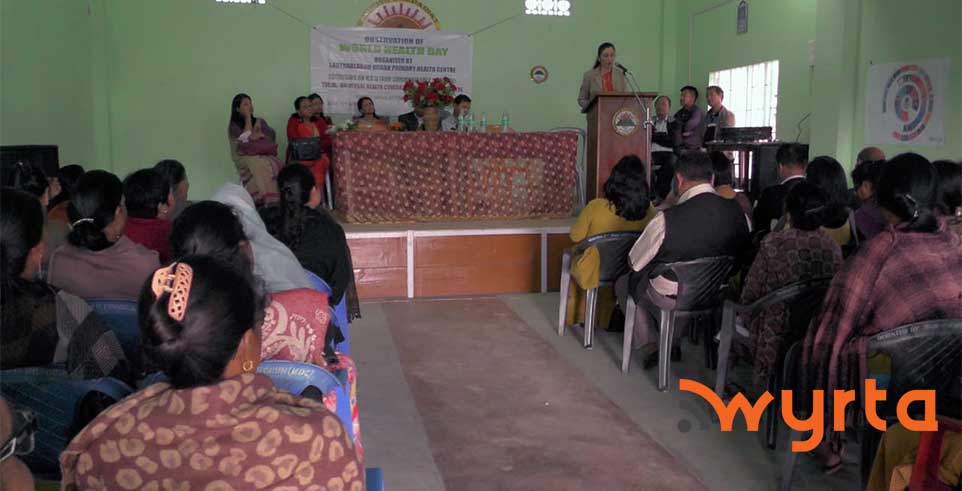 Jowai: Ka chnat yong i chait i khiah ka Ladthadlaboh Urban Primary Health Centre, ynne ka sngi da pynemwarom ko ya ka World Health Day ha Community Hall ka Lumpariat hajrong ka phang Universal Health Coverage Everyone Everywhere, heiwa da ban joor wow pynsñiawthooh ya ki paidbah hajrong ka jait kjut kawa smat bha u roi ha ka ri India kawa da tip kam ka Non Communicable Disease næ ka kjut ka wym yabi.
Ka Dr. H.J. Uriah kawa man ka Specialist (Public Health) District Surveillance Officer da ong ko wa ka kjut Non Communicable Disease kynthup kam ka kjut baampong, kjut klong-snaam, kjut chini, kjut stroke wa kiwi, heiwa katkam ka bui (Report) yong ka World Health Organisation khlieh u snem hadooh kamwa 41 milion ngut ki bru yap ki na kani ka jait kjut hei rta wa 30 hadooh 69 snem.
Da ong ko leh wa ka kjut baam-pong toh kawa ar na ki jait kjut ha ka pyrthai wa yah luti chei yap u bru, wei 70 naka 100 percent kiwa yap toh ki bru wa em hei dooh i duk. 
Tangwa hei yatoh weini i boon ki bru ym jooh kynmoo næ pyrkhat ki wa ki daw wa pynman ya kini ki jait kjut toh nei rukom baam rukom im yong ki hi, kynthup kam i pynemkaam khlem pyrkhat yei jait dih pynmuaid, i baam duma, dih duma wa kiwi natlor wada suk i kreh i khih. 
U Dr. A. Hinge uwa man kam u Medical Specialist District Hospital Ialong hawa klam u hajrong ka Hypertention & Diabetic da ong u, kani leh toh kawi ka kjut wa roi bha ha ka jylla yong i, heiwa i sdang yong ka hi toh nadooh wa dang khian kam nei rukom baam rukom im tangwa ktah won ko hei rta wa 30 snem chaneiñ.
Hei yatoh wa ka kjut Breast Cancer & Cervical Cancer da e batai bniah da ka Dr. S. Sumer kawa man ka Gyneacologist, District Hospital Ialong, hajrong ka kjut Alzheimer & Dementia da batai da ka Dr. A. Paswet Psychiatrist District Hospital Ialong.
Kamtæ hajrong kini ki kjut em hi won leh ka laad wow yada wei itæ toh lyngba ka "National Programme for Prevention and Control of Cancer, Diabetes, Cardiovascular and Stroke" kawa da wai paidbah hajrong ka thong wow yada ya kini ki jait kjut wym yabi.
Ha kani ka sngi da emlang ka R.S.Mannar kawa man kam ka Additional Deputy Commissioner yong ka West Jaiñtia Hills District ki sahep waphær waphær, ki paidbah wa kiwi haka yalang da pynlai da u Joseph Khonglah  uwa man kam u Waheh Chnong warim ka Lumpariat.