E ka Fortis Healthcare ya ka Cheque wa T. 2.5 klur ya ka ICMR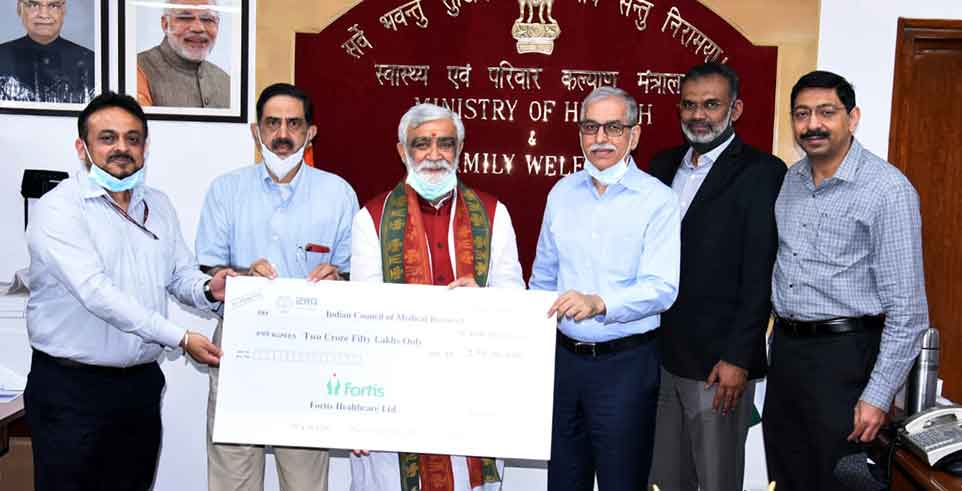 Ynne ka sngi, ka Fortis Healthcare da ekti ko ya ka Cheque wa T. 2.5 klur cha ka ICMR hei emlang u Minister of State for Health and Family Welfare u Ashwini Kumar Choubey ha kamra krehkaam yong oo.
U MD ka Fortis Healthcare & CEO, u Dr. Ashutosh Raghuvanshi, u Vice President (Corporate Affairs and CSR) u Manu Kapila, SRL's CEO Anand Kumar da e ki ya ka Cheque ha u Indian Council of Medical Research (ICMR) Director General u Prof. (DR) Balram Bhargav wa u Senior Financial Advisor, u Rajiv Roy.
Advertisement
---
Neiliang u Choubey da ong u wa ka ICMR da man ko ka chnat kawa krehkaam bha ka ki kaam thooh bniah (Research). Ym du wa man ko ka Institute wa haphrang bha ha India, da man ko leh kawi na ki Research Institute wa miat tam ha pyrthai heiwa ki Scientist da man ki kiwa kreh chitom bha ki heiyatoh wa ka khlam COVID-19.
Da ong u leh wa ka Fortis Hospital da kreh bha ko wei daw e mynsien ko ya kiwi ki thaw e sumaar.